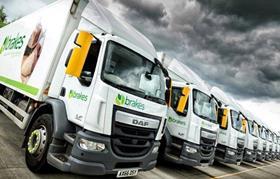 Brakes has strengthened its CSR programme with a new packaging policy and the rollout of energy-efficient lighting aimed at minimising the company's environmentalal impact.
The new packaging policy sees Brakes reinforce its commitment to ensuring suppliers maximise the use of materials that are recyclable, reusable or compostable where appropriate, underpinning Brakes' CSR requirements.
They also cover the minimisation of waste, reduction of carbon to produce and transport packaging and minimisation of the use of resources throughout the production process.
The introduction of the new packaging policy builds on the completion of Brakes' 2ZERO20 black plastics commitment, which removed hard-to-recycle black plastics, equating to more than 1,000 tonnes, from its supply chain.
In October, the business completed the rollout of new LED lighting across its UK-wide network of depots, which will save around 500 tonnes of carbon. Brakes is now focusing on plans to introduce its own sources of alternative energy, which it said it hopes to launch shortly.
Stuart Smith, Brakes' director responsible for CSR, said: "As a business, we have a responsibility to take a lead on CSR. As the UK leader in foodservice wholesale, and as part of Sysco, the global foodservice leader, it's the right thing to do, but is also increasingly what our customers and consumers want and expect of us.
"We've made it our mission to put CSR at the heart of our business across our focus areas of people, product and planet. We want to support all the communities in which we operate, reduce our impact on the environment and ensure that we take the right steps as a business to support our customers' own CSR programmes."