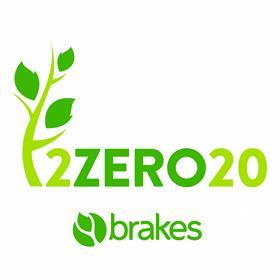 Brakes, the UK's leading foodservice supplier, has today (18 December) announced the completion of its pledge to remove all hard-to-recycle black plastic from its own brand range by the end of 2020. Brakes has the largest private label foodservice brand in Europe.

The company, which was the first foodservice wholesaler to make the pledge to turn its back on hard black plastics in June 2018, has now completed its promise having changed packaging on almost 500 lines and removed more than 1,000 tonnes of the problematic plastics from its supply chain.

Hugo Mahoney, Brakes' CEO, said: "There have been so many challenges over the past year for suppliers to the hospitality and catering markets, but nonetheless we have maintained a close focus on our CSR commitments. It is a major achievement to have made good on our promise, especially given the circumstances. As a result of the fantastic effort from Brakes' colleagues and our fantastic suppliers, more than 1,000 tonnes of hard black plastic is now easily recyclable and no longer being thrown away."

While the 2ZERO20 pledge has been one of its most prominent campaigns, Brakes remains very active in all its CSR focus areas. Its Meals & More charity continues to advocate holiday hunger prevention, helping clubs that serve more than 10,000 children, and it continues to make excellent long-term progress on carbon reduction (having already hit its original targets and reset them to a 30 per cent reduction by 2025) and reducing food waste.

As Mahoney explained: "We are passionate about delivering a better tomorrow through our CSR focus areas, and we are in a unique position to demonstrate leadership in our industry, working with our global supply chain to adopt high CSR standards. On non-recyclable plastics, we have carried the foodservice flag, making early commitments and showing the way. While the company has been recognised with many awards over the past couple of years for our responsible and sustainable approach to food supply and distribution, we don't intend to stop here. As a Sysco company, we're committed to finding creative solutions to advance CSR in three areas, caring for people, sourcing products responsibly and protecting the planet."
Brakes provides a wide range of fresh and frozen food and ingredients to UK pubs and Michelin-starred restaurants, as well as schools, caterers, care homes and hospitals.
Brakes is a Sysco company - a US-headquartered global foodservice supplier.