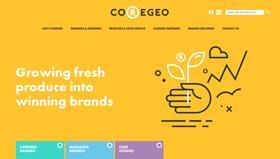 Coregeo has unveiled a new-look website as part of a wider brand refresh in a move it says reflects a global shift in focus beyond the company's fresh produce marketing and brand-management expertise.
Coregeo is best known for its work with fresh produce brands Pink Lady, Tenderstem and Bimi, but as the company has grown it has increased its work in other areas including intellectual property protection, quality assurance, compliance, licensing and administrative and financial management support across different regions.
It worked with Bristol-based creative brand agency Hive to craft the new brand identity and website at Coregeo.com.
"Coregeo now works with breeders and growers, retailers and the foodservice industry across the globe to create, develop and manage fresh produce ideas and grow them into winning brands,' explained managing director Peter Durose. 'The time has come for a brand identity that reflects the fact that we are much more than strategic marketers and brand managers. The new website does this by demonstrating the importance of forging strong partnerships with key audiences and by underlining the value we can add to new, existing and potential partners and their products and businesses at every stage of their commercial journey.
"The way we communicate, connect and engage with breeders, growers, retailers and the food industry is also critical to our success as well as our partners' success. Therefore, we have developed a new communications strategy that will build on the messaging and tone of the rebranded website through our social channels and media relations and PR activity. We pride ourselves on being leaders in our field and this fresh and dynamic rebrand, and communications strategy keeps Coregeo ahead of the curve by ensuring we put our existing and potential partners' needs at the heart of our strategic decision-making and at the core of our communications approach."
In recent commercial developments, Coregeo helped Pink Lady to team up with Nim's Fruit Crisps in an exclusive agreement to create a new healthy 'on-the-go' snack using Pink Lady apples. It has also worked on the launch of the new Asparashoots brand, a premium British asparagus brand.
Lisa Kerr, Coregeo's marketing manager for new business, added: "These are just two of the latest examples of how we can add value to fresh produce brands. Our new strategic approach and rebrand will be the catalyst for more innovation which will drive Coregeo's growth and the successful development of these and other new exciting brands."