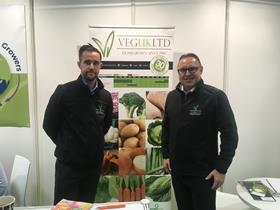 Veg UK managing director Julian Pitts says brassica production is at "crisis point" as consistently poor weather and lower returns have hit the category hard.
Record levels of rain in autumn and winter last year saw growers battle quagmire conditions to lift their crops, forcing up costs and diminishing their returns.
In January the British Growers Association said brassica growers are now considering leaving the category altogether, switching to more profitable crops such as cereals.
"Quality has been really affected by the weather and it's affected planting for this season's crops," Pitts says.
"We have been lucky in Kent that we leave bigger spacing between plants than the Lincolnshire growers which has helped with lifting."
"With the prices at retailers under pressure, things are not adding up. We are at a crisis point."
Despite the serious struggles in produciton, Pitts says vegetables are still brimming with potential in a health-conscious market.
"There's other opportunities with exports, in the ready meal business, people are curious to try something different with vegetables, and with the veganism trend it's pushing demand," he says.