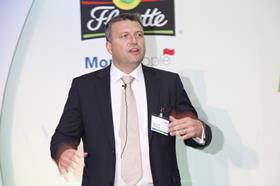 The former head of one of Britain's largest retailers, Fresh Direct, has said Brexit will be "the shake up we need" in the UK foodservice sector.
Nigel Harris launched a stinging critique of his industry on stage at the London Produce Show, describing it as becoming "complacent".
Harris, who now runs the catering firm Absolute Taste, suggested the pressure Brexit will put on supply chains will force the industry to work together, in a more truthful way.
"I like the idea of Brexit, I think it will take a lot of crap out of the industry. It got complacent," said Harris.
He suggested much of the industry had misled customers over their provenance, as well as adopting misguided supply chains.
"The term partnership was used a lot but it meant nothing. Brexit is going to test the strength of wholesalers and caterers, if they are going to start telling the truth to each other. It may get customers and suppliers working together to improve the supply chain.
"I think Brexit will be great. It will make people pull their socks up and deliver great value and great food. It will be the shake up we need."