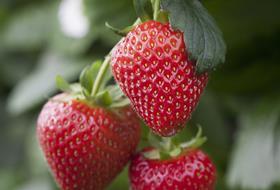 Iceland has emerged as the UK supermarket that enjoyed the largest year-on-year growth in British berry sales in 2020.
The UK's ninth largest grocer saw its UK berry sales rise 19 per cent, according to British Summer Fruits, the industry body representing the growers of 95 per cent of all UK berries.
Lidl and Aldi also notched up strong value growth in British berries last year, up 15.2 per cent and 10.9 per cent respectively.
Each year, British Summer Fruits recognises the retailer that enjoyed the best sales year for British-grown soft fruit, this time with a virtual certificate.
Nick Marston, chairman of British Summer Fruits, said: "Despite a very challenging year, we're thrilled to see that fresh berry sales continue to increase year on year. We work closely with all UK retailers throughout the year and value their continued effort and support of our industry."
Over the past year, sales of berries in the UK have increased by 9.9 per cent overall, with the industry now worth over £1.6 billion, according to the trade body.