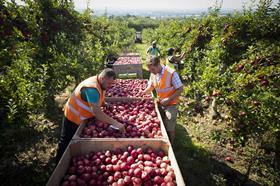 In addition to dealing with challenging weather conditions this year, British topfruit growers are facing significant increased costs, trade body British Apples and Pears has reported.
In the last few months cardboard prices have increased by 25-30 per cent, haulage costs by 10-12 per cent, and packaging costs by at least 10 per cent – and these expenses are still rising.
This comes top of labour inflation prompted by the impact of Covid and Brexit. A recent report fromAndersonshas revealed that the combination of labour inflation and Covid costs have added 6.5p to the production costs of a six-pack of British Gala apples in the last two years.
Despite the Spring frosts, hail and wet weather, apple and pear growers are predicting a high-quality crop. The 2021 harvest was anticipated to have seen an increase in production, but some varieties, like Cox and Bramley, have been harder hit by the weather challenges.
To launch the new season on 4 October 2021, British Apples and Pears Limited (BAPL) is again working with renowned chef and passionate advocate for British produce, Raymond Blanc OBE.
According to BAPL, Blanc believes Britain produces some of the finest apple and pear varieties in the world and he wants consumers to support UK-grown produce.
In a new partnership, BAPL is also working with JB Gill, the high-profile member of successful boy band JLS, as an ambassador for the start of season launch. JB is already a champion of homegrown produce, having set up his own farm in Kent four years ago.
Ali Capper, executive chair of BAPL said: "There is no doubt the unpredictable weather conditions have posed challenges to British apples and pear growers. Coupled with steep rises in the cost of production, 2021 is undoubtedly testing the industry.
"Our growers' commitment to producing a high-quality crop, and their ongoing drive for sustainability, means our apple and pear varieties are some of the best-tasting and most environmentally friendly varieties in the world.
"With the support of British retailers, we are excited to celebrate the start of a wonderful British apple and pear season and flavoursome, vibrant-coloured red apples."
To coincide with the new season, BAPL will be launching a new sustainability report from the Royal Agricultural University. The report will highlight the strong environmental credentials of British apples and pears.
Capper pointed out that eating a British apple a day is "a small step towards improving health and reducing the impact on the environment and food miles".