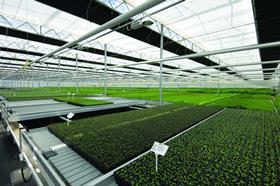 Langmead Herbs is on course to achieve 50 per cent business growth in 2016 thanks to its investment in staff, the grower reported.
Staff numbers are up 15 per cent after a recruitment campaign aimed at sustaining this growth; and retention rates are high with 57 per cent of the 60-strong workforce staying at the company for longer than three years and 20 per cent for longer than five.
"People development is a major contributor to this success and, fuelled by it, will prime Langmead for future growth ahead," said chief executive Ian Summerfield. "The business is thriving because we have great people in a skills-based and committed workforce."
In a recent employee survey – the company's first since it entered the herb market in 2012 – 87 per cent said they feel involved in decision-making, while 92 per cent say staff are treated well.
Ongoing training is offered to employees of the company, with courses including financial qualifications for members of the finance team and ESOL English classes for foreign employees.
The business's improved productivity, which has seen production increase by 50 per cent, is down to its so-called 'lean' marketing principles, the company said. These include allowing staff to challenge operational practices and suggest new ways of working.
The company now produces five million pots of basil, parsley, mint, thyme and chives a year.