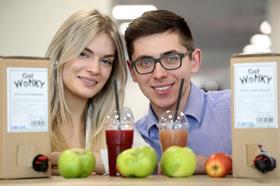 A pair of young entrepreneurs in Cardiff is turning irregularly shaped fruit into natural fruit juices in a bid to tackle food waste.
The start-up named Get Wonky produces a variety of juices made exclusively from hand-picked fruit, regardless of its shape or size. It is receiving support from the Welsh government's Big Ideas Wales programme, which supports budding entrepreneurs.
The company's founders Maciek Kacprzyk and Karina Sudenyte, both of whom studied at the University of South Wales, were driven to set up the business by the large quantities of fruit discarded because it does not meet retailers' size or shape specifications.
The 24-year-old Kacprzyk and 21-year-old Sudenyte, from Poland and Lithuania respectively, are confident that many consumers care about food waste enough to source their food and drink from a sustainable source.
Kacprzyk said: "Recycling waste is one of the biggest challenges of our time, and we want to change that reality. We recently ran a crowd-funding campaign that raised just under £3,000 to help get our stock going, which led to further interest from investors.
"Orders have started coming in and we've been approached by the University [of South Wales] and several other organisations to have a more permanent presence with them."
At present Get Wonky juices are mainly available as catering options for events, supplied in 5-litre boxes to reduce waste by 70 per cent compared to plastic bottles.
The pair also hopes to branch out into retail – with premium outlets Waitrose, Selfridges and Whole Foods Market the principal targets – as well as making the drinks 100 per cent carbon-neutral.
At present, the cups and containers used to carry the juices are made from at least 50 per cent recycled materials, but Get Wonky hopes to use entirely reprocessed containers in the near future.
If the entrepreneurs can secure the necessary investment, they will become Wales' first all-natural, recycled and carbon-neutral drinks provider.
Flavours include strawberry and apple, blackcurrant and apple, and carrot and apple. All the juices are 100 per cent natural, meaning they are free from powders, oils, acids and GMOs.