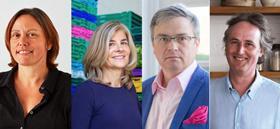 E-commerce, automation and the true value of food were the key topics of debate during a thought-provoking panel discussion at a digital edition of the City Food Lecture.
After delivering this year's lecture, Ocado's CEO Mel Smith was joined on the panel by IGD'schief economist James Walton, City Harvest CEO Laura Winningham and gourmet ready meal provider Charlie Bigham, with proceedings hosted by food journalist and BBC presenter Charlotte Smith.
More in store
Starting out by discussing the future of bricks-and-mortar retail, Walton insisted that shopping in large grocery stores still has "a long way to run". During her lecture, Smith spoke of the efficiency Ocado has been able to achieve with its warehouse operations, but Walton reminded viewers that a large proportion of online food transactions from other retailers are still picked in store. Achieving profitability with in-store picking is "extremely difficult", he said.
"From a retailer's point of view, it's much more cost-effective to have the shopper come to you. As the coronavirus threat starts to dissipate, people will come back to the stores, and I think big retailers will have to work hard to make them feel welcome, safe and like they're getting value for the time they're putting into that."

Driven by data
Responding to a question about the most urgent changes that food and drink retailers need to make to adapt to the future for e-commerce, Walton stressed that using data to create value is key. AI has a huge role to play in this, and one thing it can be used for is predictive analytics.

"Until quite recently, understanding shopper loyalty was about asking what shoppers did," said Walton. "But now we have the means to find out what shoppers will do. Might they abandon us, might they go to another retailer, or switch brands? And when you understand that you can actually sort of head them off and keep them within your part of the market."

Replacing humans
As well as harnessing data in this way, Ocado's model puts a strong emphasis on automation, with orders picked and packed by hundreds of 'swarm' robots at its much-vaunted customer fulfilment centres. Smith said this is a highly efficient way of processing orders, reducing food waste and limiting the amount of warehouse space required, but questions were raised about the social impact of this kind of automation.
Tim Lang, professor of food policy at City University, asked whether replacing lots of warehouse and supermarket jobs with robots is always a good thing. To which Smith responded that finding people to do those picking and packing jobs in warehouses can be difficult, with automation creating different work opportunities. Ocado Group hired another 700 coders in the UK last year, and these are the kind of jobs the retailer wants to create more of, Smith said.
Bigham insisted that replacing low-skilled jobs with robots and creating higher value positions is a positive development, however it is perhaps doubtful that all of the workers set to be replaced by automation would have the skills or qualifications to access these new positions.
One aspect of the Ocado model which perhaps doesn't get the attention it deserves is the opportunities it affords smaller local producers. Ocado ranges more than 1,000 small British or global suppliers. Such business couldn't necessarily get into Tesco because it's a big risk for the retailer to range a new product in 200 shops, Smith explained, whereas Ocado can try it out in three of its customer fulfilment centres.

Winning with waste
On the issue of food waste, it was noted that large surpluses from suppliers and retailers have provided a lifeline to UK charities, particularly during the pandemic. Should companies really be trying to eliminate waste when it can be redistributed to organisations that might otherwise be unable to afford enough food?
Winningham emphasised that although the food industry should be making efforts to reduce waste, a degree of waste in the supply chain is inevitable. All edible surplus should be redirected to charities rather than anaerobic digestion, she stressed.
"A lot of companies mix edible and inedible waste and send it all to AD when truly there needs to be some process for the food that can be eaten," she said, "especially at a time when there are so many more people needing emergency food aid."

Valuing food
The panellists generally agreed that more needs to be done to encourage retailers and consumers to recognise the true value of food. Household expenditure on food in the last 30-40 years has fallen dramatically, and Bigham emphasised that good value is not all about price, but also about the quality and nutrition of the food we eat.
He said high quality producers have to work hard to convince consumers why they should pay a bit more, but this can only be achieved by convincing them they are doing things differently from other suppliers.

The polluter pays
Over the past couple of years there has been considerable interest in systems such as carbon pricing and the "polluter pays" principle, whereby food prices reflect producers' greenhouse gas emissions, water use and impact on the soil.
While this has been discussed as a possibility for the UK, Walton reminded delegates that a large section of the UK population is very vulnerable and cannot afford to pay any more for their food and drink.
"Any system would have to be designed with extreme care and the possible undesirable consequences of it would have to be monitored very carefully over the first couple of years," he said.