Supermarket reports 15 per cent sales growth as shoppers seek out cheaper, healthy foods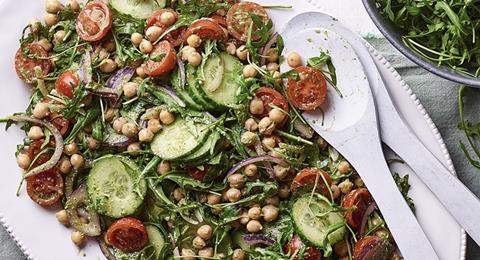 Chickpeas have become the latest pulse crop to come into fashion as Brits look to find cheap but nutritious ways to bulk out their meals.
That's according to Tesco, which reports seeing demand for tinned chickpeas soar by 15 per cent in the past year as the cost-of-living crisis focuses shoppers on making their money go further.
As well as being rich in fibre and protein, a third of a regular tin counts as part of one's 5 A Day, and they are quick to prepare.
Chickpeas are a staple in many cuisines and they can also be used to make mash, veggie burgers, and added to soups, stews, curries, wraps, fajitas and salads.
Tesco's head of health campaigns, Oonagh Turnbull, said: "Houmous has long been a snack-time favourite and recently falafel has become super trendy, so it's almost natural for Brits to have gone back to the source pulse, chickpeas, where these tasty and nutritious treats come from.
"They're also ticking a lot of important boxes for shoppers at the moment because not only are they versatile and affordable, they are also really good for you. Chickpeas are a rich source of vitamins, minerals, and fibre. They are also really high in protein and make an excellent ingredient in many vegetarian and vegan dishes."
As well as playing a part in a healthy diet, chickpeas also have a role to play in sustainable food systems, restoring nutrients to the soil, the supermarket pointed out.
Tesco is working with WWF to halve the environmental impact of the average UK shopping basket by helping consumers make better choices. WWF-UK head of consumption, Jo Trewern, said: "What we eat has a direct impact on the planet – growing chickpeas, beans, and other legumes restores vital nutrients to the soil and is far less carbon intensive than rearing livestock.
"Adopting more plant-rich diets is vital to tackle the climate and nature crisis, and foods like chickpeas are packed full of important nutrients too.
"It's fantastic to see more and more people choosing this tasty, affordable option, which can be used as a great alternative to meat in many dishes."