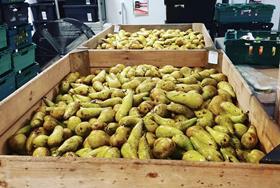 London food redistribution charity City Harvestwants to work directly with more fresh produce growers and has called for additional support from suppliers amid "skyrocketing" demand for its services.
The charity said it had been "humbled and inspired" by the donations it has received from the fresh produce supply chain during the pandemic but stressed that more people than ever are now going hungry in the capital.
The organisation emphasised it is open to working with fruit and vegetable producers across Britain, not only those close to London.
"We'd welcome the opportunity to speak with farmers and other suppliers in order to get surplus to individuals who are struggling with the economic ramifications of Covid, which are sure to be with us for long time to come," said City Harvest's CEO Laura Winningham.
"We now have a 'Farm to Family Initiative' and can travel further to rescue surplus fresh fruit and vegetables from farms, preventing unnecessary waste when so many people are in need."
The charity wrote in its 2020 Year-End Update that the coronavirus crisis is "having an outsized impact on Londoners who were already vulnerable and living in poverty," adding that the pandemic has thrust thousands more into financial hardship.
Even before the pandemic, poverty was intensifying in London and since 2017 the number of people living in destitution had increased by 54 per cent, according to the Joseph Rowntree Foundation.
This has worsened since the pandemic took hold, with The Legatum Institute reporting that the total number of people living in poverty has increased to more than 15 million (23 per cent of the population).
According to The Trussell Trust, 50 per cent of people who used food at the beginning of the pandemic had never needed to rely on one before.
City Harvest is rapidly growing in response to this need, and in January 2021 City Harvest redistributed food formore than one million meals.
In 2020, which City Harvest described as a "tremendously difficult year", the redistributor rescued 3,269 tonnes of food, delivering 7.9 million meals. That's more than £36,000 worth of food to each of its charity partners on average.
Last year also saw the launch of a new scheme called The Livery Kitchens Initiative, which involvesthree Livery kitchens: the Drapers, Grocers, and Fishmongers. In partnership with City Harvest they have been preparing 2,000 individually packed meals a week to 13 East London community organisations, including children's programmes, food banks and centres for destitute refugees.
City Harvest's charity partners have almost all been in need of larger food donations during the pandemic. For example, Mildmay Centre in Islington, which supports those living in isolation and poverty, reported that demand for their services has gone through the roof, particularly since the second lockdown.
In August 2020, Mildmay was supporting 150 people a week, but this rose to 277 people weekly in December.
Meanwhile, at Age UK Westminster, demand has tripled for all its services. Mutual aid dropped off in August and a lot of the burden has fallen on charities to deliver services, including food aid. The charity has been involved in cases where people were days away from starving.
Winningham is speaking on theCity Food Lecturepanel on 10 February alongside IGD's chief economist James Walton and gourmet ready meal provider Charlie Bigham.