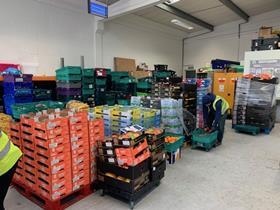 Food and fresh produce redistribution charity City Harvest is launching a virtual food box donation this harvest time to help people struggling to feed themselves.
The initiative marks the City Harvest Festival, alongside an exhibition and series called "Kindness is Powerful" that explains who and why needs help with food.
The exhibition will run outdoors at Portman Square Gardens between 22nd and 24th September.
City Harvest said the coronavirus crisis has exacerbated hunger in the capital with 2.3 million Londoners facing food poverty, and numbers rising.
Year on year the volume of food City Harvest collects and redistributes has doubled, delivering 4 million meals during the coronavirus crisis.
City Harvest CEO Laura Winningham said: 'We are now braced and ready for whatever this autumn brings. More than 2.3 million Londoners live below the poverty line and 33 per cent of adults have skipped meals to save money so that their children can eat.
"We are expecting to see a food poverty spike as unemployment figures climb and the furlough scheme ends. To that end, we are determined to keep the issue of hunger and food waste in the public eye, which is why we are launching our first City Harvest Festival Campaign."