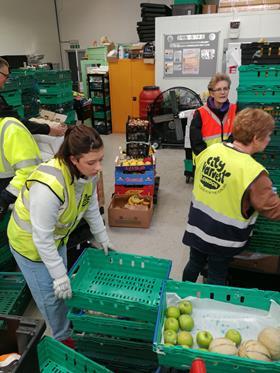 Food surplus charity City Harvest is partnering with Equinoxe Solutions to help educate manufacturers and suppliers about how easy it is to donate surplus food.
Over 13.3 million meals are wasted by businesses in London each month, yet 9.2 million meals are missed by people facing food poverty, enough to feed London.
Each week City Harvest delivers over 80,000 meals to those in need, and recently reached 8 million meals rescued since its launch in 2014. That's the equivalent to £10 million worth of fresh nutritious food that would have otherwise been sent to landfill, offsetting 12,000 tons of greenhouse gases.
Equinoxe works with over 70 national and regional suppliers and a wide range of customers from the hospitality and restaurant industry. After only a few days, Bidfood and Tortilla have already signed up to support this cause.
"At procurement level and supply chain levels, being able to link suppliers with City Harvest is a great way to give back and addresses the issue of what to do with surplus food stock which is perfectly good, and all too often ends up in landfill. We are so excited about the difference this partnership will make," said Steve Jones, director at Equinoxe Solutions.
Laura Winningham, CEO of City Harvest said: "We are acutely aware of the huge amount of potential surplus food sitting with suppliers that we can deliver to those facing food poverty. Many companies are simply unaware of the next step and how easy it is. We hope to increase awareness of how easy our service is to use and empower companies to make huge social impact."
In addition to the Acton depot, City Harvest recently opened its New Spitalfields depot, granted by City of London to help serve East London. City Harvest is expanding its reach throughout the east, and into Tower Hamlets communities, making sure food is redistributed to those who need it the most.