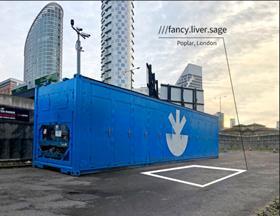 Collectiv Food has teamed up with the location app what3words to bring increased efficiency to its food supply deliveries. The partnership will help to reduce the amount of delayed deliveries, while also cutting down on carbon emissions, it said.
London-based Collectiv Food, a fast-growing food supply business operating in the UK and France, says it is on a mission to transform how food is accessed and distributed within cities, all underpinned by a commitment to sustainability.
Collectiv Food currently works with delivery partners Apex, DHL, AnyVan, and soon EcoFleet, who use their app to collect food supply from Collectiv Food's warehouse spaces and bespoke Points of Distribution (PODs).
With a vision to lead the way in creating a transparent and sustainable food supply chain, the PODs are chilled units using under-utilised spaces in key urban locations. There are currently four PODs in London that can store more than 40 tonnes of fresh products, with plans to implement 25 more across the capital.
Collectiv Food now provides delivery partners with the what3words addresses of their hospitality customers and the PODs where they'll be collecting the food supply. what3words is an easy way to identify precise locations. It has divided the world into a grid of 3x3 metre squares and given each square a unique combination of three random words: a what3words address.
Collectiv Food says its unique delivery model takes big lorries off the roads, using empty capacity in smaller vehicles already making journeys in and around our cities. Overall, the company is actively reducing traffic levels - particularly during the daytime - and reducing emissions into city air by up to 50 per cent. In addition to this, what3words means that delivery drivers will always know the precise pickup and drop of points for delivery, reducing the amount of time spent navigating to the correct destination. As a result, Collectiv Food customers enjoy an improved and more seamless experience.
Lucas Dawe, VP supply chain at Collectiv Food comments: "We're very proud to be the first wholesale food supplier to integrate the what3words location finder into our delivery process, enabling more efficient deliveries to our customers. The partnership marks another exciting step in our mission to revolutionise how food is accessed and distributed within cities.

The most polluting segment of the food journey is often the last-mile, as diesel-powered, refrigerated trucks enter our congested city centres. At Collectiv, we're already tackling this with our innovative, asset-light logistics model and PODs (Points of Distribution) - partnering with what3words enables us to make the journey even leaner. Now we can offer our delivery partners more precise pick up and drop off locations, meaning they can easily get to where they need to be, spend less wasted time on the road, and ultimately reduce carbon emissions."
Chris Sheldrick, CEO and Co-founder of what3words adds, "In this day and age, reducing your carbon footprint is something at the forefront of everybody's mind. By helping delivery drivers find precise locations with just three words, we're also supporting Collectiv Food's commitment to creating a more sustainable food supply chain. Our partnership with Collectiv Food means that customers will enjoy fresh food supply, while delivery drivers will be able to navigate with increased efficiency."
Collectiv Food is a rapidly growing food supply business, on a mission to transform how products are accessed and distributed within cities. A next generation wholesale supplier, it seeks to help professional kitchens to solve the food supply challenges of today and tomorrow.
Existing to bring transparency, fairness and sustainability into the B2B food supply chain, Collectiv works with hundreds of kitchens across a diverse set of verticals, including restaurant groups, dark kitchens, meal-kit companies, catering companies, hotel chains and grocery stores. Using technology and innovative logistics to drive efficiencies in its managed marketplace, the team works closely with producers and customers to reduce costs and environmental impact.