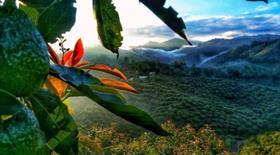 Ahead of National Avocado Day in the UK on 31 July, ProColombia – the government promotional body for foreign direct investment, trade and tourism in Colombia – reveals that exports of the popular fruit have grown exponentially during 2021, with the UK being one of its key buyers.
Between January and May 2021, worldwide avocado exports from Colombia reached £83 million, representing an increase of 87.8 per cent year-on-year. Exports to the UK during this period accounted for £13 million, marking an increase of 90.4 per cent year-on-year.
The strides in 2021 growth come on the back of a strong year in 2020 with avocado exports to the UK across the year reaching £13.5 million and an annual compound growth of 50.2 per cent during the previous five years, ProColombia said.
Recent data from the French Agricultural Research Centre for International Development (CIRAD), which works with more than 90 countries, shows that Colombia is currently the leading supplier of avocados to Europe. And Corpohass - the Colombian corporation of producers and exporters of Hass Avocados - states that Colombia is a key player in Hass avocado supply to Europe, with 30 per cent market share.
During the Covid pandemic, avocado has gradually gained more space within the consumer food basket due to its versatility as a food and its nutritional value.
In contrast to other South American countries, which are reaching the limit of their agricultural production, there is still a vast amount of land in Colombia to cultivate avocado. This, combined with the business decision of both Colombian companies and foreign investors who are choosing the country as a key destination for their agribusiness, is why Colombian avocado exports are enjoying a continued year-on-year increase.
Colombia's avocados are known for their high quality and positive environmental and social certifications, which are required by the UK and some European countries.
Flavia Santoro, president of ProColombia, says: "Avocado continues to position itself as one of the main milestones of Colombia's agro-export offering, thanks to the flavour, quality, and sustainability that are sown every day by our domestic producers and supported by foreign investors."
Many Colombian producers are adopting innovative and sustainable approaches for avocado farming. One such example is Cartama - a group of Colombian farmers producing Hass avocados. Their purpose is to develop the Colombian agricultural sector through the sustainable production of the Hass avocado and its by-products, with a focus on the well-being of the clients, suppliers and contributors.
ProColombia is holding two events over the coming months to connect Colombian avocado exporters with UK buyers:
UK buyers are invited to the Business Matchmaking event, Pacific Alliance, to meet with 100 exporters from Colombia, Chile, Mexico and Perú. The virtual event takes place virtually from 21-23 September.
ProColombia will also be hosting UK buyers at the ProColombia International Matchmaking event in Dubai - part of Colombia's participation at Expo Dubai. The event will take place on 8-9 November.