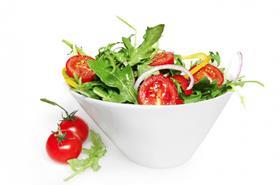 Less than a third of consumers are aware of when common fruit and vegetables are in season, according to a new survey.
The consumer research, carried out by kitchen specialist Magnet, saw 2,000 people surveyed to find out if they knew what's in season when, and what environmental impact their Christmas eating habits might have.
The survey found that only three in 10 respondents could identify when common fruit and vegetables were in season. For example, only 16 per cent knew when sweetcorn is in its prime, although a more impressive 61 per cent knew that tomatoes are at their best in the summer months.
Just 12 per cent of respondents knew when spinach or rhubarb is in season, rising to 19 per cent for asparagus and 29 per cent for blackberries.
Magnet said having a seasonal diet and eating produce grown closer to home would allow consumers to reduce carbon emissions and be more sustainable. And eight out of 10 shoppers in its survey claimed to have 'shopped seasonally' or said that they want to.
The kitchen firm has produced a guide for consumers to help them understand when fresh produce is in peak season. It said that would help with the fact that only 28 per cent of British consumers shop seasonally to reduce their carbon footprint at a time when some 26 per cent of all carbon emissions come from food production and consumption.