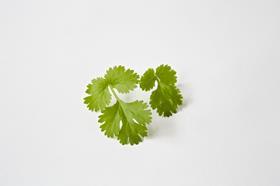 New sales data shows that the UK's best-selling herb is coriander, followed by parsley, basil and mint.
The figures and the biggest jumpers on the UK top 10 (see below) appear to correlate with the fact that Britons are becoming more experimental when it comes to food, with celebrity chefs, TV cookery programmes and recipe books the biggest influences on our cooking, according to new research conducted by the UK's leading herb producer, Vitacress Herbs.
They found that 40 per cent of people say they are now more adventurous in the kitchen, and 30 per cent are cooking more dishes inspired by world cuisine.
Herbs that have seen the biggest spikes in popularity in the past 12 months are tarragon (7 per cent increase), dill (7 per cent increase) and mint (6.5 per cent increase).
Ann Tenison, of Vitacress, said: 'With coriander the UK's favourite herb, it may come as no surprise that the dishes which have seen the biggest increase in popularity for home cooking are fajitas (up 20 per cent on five years ago), Chinese stir fries (up 16 per cent) and Indian-style curries (up 14 per cent).
'When it comes to what most influences the food we cook and enjoy at home, cookery books (37 per cent) came top, followed by celebrity chefs and TV cookery programmes (31 per cent) and friends and family (30 per cent). Restaurants came in at a close 29 per cent.'
Analysis of 21 recent top cookery books from chefs such as Yotam Ottolenghi and Jamie Oliver through to Tom Kerridge by Vitacress, meanwhile, supports the herb sale trends, with coriander the most referenced herb – 285 mentions across all of the books.
In addition to making more of exotic ingredients, the research found that today, the average meal is likely to have eight ingredients, when five years ago it was six.
Tenison added: "Sales of fresh herbs, combined with this report into cookery trends, firmly demonstrate that we are a nation with truly international food tastes. Greater availability of ingredients, international travel and more exposure to food in the media, are all factors in driving popularity of ingredients that previously would have been seen as exotic, but now are every day.
'As well as the herbs that we now know and love, we're continuing to grow new varieties such as Thai basil, cinnamon basil, summer savory and fresh lime leaves to meet growing demand."

The UK's top-10 best-selling herbs in the past 12 months, are:
1. Coriander (30,097,897 pots, bunches and packs sold)
2. Parsley (23,260,062)
3. Basil (19,358,700)
4. Mint (11,543,406)
5. Thyme (5,453,447)
6. Rosemary (5,389,971)
7. Dill (5,118,104)
8. Chives (4,730,156)
9. Lemon Grass (2,471,249)
10. Tarragon (1,935,039)