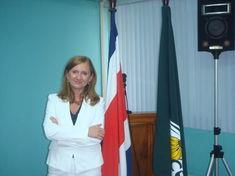 Costa Rica has set its sights on increasing vegetable exports to Europe following negotiations over a free trade agreement with the EU.
External trade minister Anabel Gonzalez said cassava and chayote are currently important exports and that the country was looking to increase exports of carrots, tomatoes and peppers, initially to the US.
The EU is the second most important market for Costa Rica, taking some 47 per cent of its total agricultural exports.
Gonzalez said: "We want to increase our presence [in Europe] and also to introduce new products. Most of our export goods are fruits and important work can be done in veg to increase our market presence in that sector."
Gonzalez's statement of intent follows negotiations with the EU over a free trade agreement between the EU and Central America.
She said the deal would give Costa Rica better market access and promote investment from Europe: "It is also important because these agreements strengthen the institutional capacity in Costa Rica. It is not just free market access but also other elements such as intellectual property, labour and environment, transparency."
Gonzalez also expressed relief at the conclusion of the WTO agreement over bananas last year: "I believe also it was a very sour point in the relationship between the EU and some Latin American countries and I think getting over bananas is very important for the strengthening of the relation."