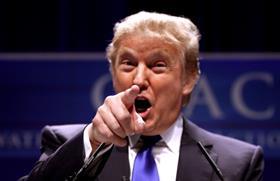 The US organic industry has said it will compensate for its country's lack of political leadership on sustainability and "continue its mission".
Speaking at the Sustainable Foods Summit in Amsterdam last week, international trade director for the Organic Trade Association, Monique Marez, responded to Donald Trump's decision to withdraw the country from the landmark Paris climate agreement.
She said Trump's announcement, which occurred the day before the conference, had been "a blow" but stressed that the organic sector in the US will "continue its mission".
"We will compensate for the lack of political leadership that we have right now," she said. "It's worth remembering that we've never had the governmental support that you have in Europe for organics. We've built the biggest organic market and we've done that on our own, and we will continue to do that.'
"You can count on us, if you can't count on our president," she added.
New research links organics to lower poverty levels
The organic farming industry has been linked to lower levels of poverty and higher average household incomes in a major new study linking the sector with benefits to the local economy.
In a survey of organic 'hotspots' in the US – areas of neighbouring organic activity – the US Organic Trade Association found that the presence of the organic sector reduced poverty levels by 1.35 percentage points, even among those not involved directly with organic businesses.
This compares to the US government's largest social care programme, a voucher initiative for lower income families, which reduces poverty by 1.5 percentage points, said the trade body's Monique Marez.
"This was a peer-reviewed study that shows for the first time that organics is a development tool," she said. "We hope that it will incentivise everyone, including governments, to pay organics a little more attention."