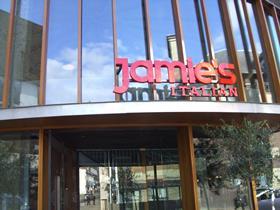 The glitzy façades of London's popular restaurant chains are conspicuous signs of a successful self-assurance on British high streets. Yet behind the glam, all is not well in paradise, with a recent spate of high-profile restaurant closures revealing an industry whose books have not been adding up.
Early signs of the looming trend emerged last year when Jamie Oliver brand Jamie's Italian closed six restaurants, followed by a further 12 this January. Burger chain Byron then followed with news of up to 20 sites across the country facing closure. Prezzo then announced the imminent closure of 94 restaurants, including their Mexican brand Chimichanga.
The outbreak has since spread across the industry from the likes of Frankie & Benny's to more upmarket chains like Cau, owned by steak group Gaucho. Foodservice consultant Peter Backman says the proliferation of private finance into the industry has helped fuel an unsustainable expansion, which brought a new business model along with it.
"The situation has arisen because the market has slowed and some companies are not well placed to cope with a slowing market or with competition. The madness is in the sheer number of brands there are," he explains.
"That was driven mostly, but not exclusively, by private equity investments, because their model is to own a brand for five years and sell it on for more money. What it means is private equity piles into the market, each does its own thing, and may have growth on an individual basis, but in totality it gives rise to overcapacity."
This glut of restaurant chains appeared as a boon for suppliers and wholesalers who were able to grow on the back of increased orders. But the sudden recession caught them by surprise.
Anx Patel, chief executive of suppliers GoKart says: "During this rapid expansion of the chains, our wholesalers saw for a little extra sales effort and clever pricing they could harpoon a whale of a business and in return they got volume. This made complete sense. This lead to some of the UK's fresh produce suppliers having 90 per cent of their volume taken by the chains.
"All of a sudden what seemed like a safe bet is now a huge vulnerability. Not only is volume sucked out, but the big chains require large credit facilities, which means when they go under wholesalers are most likely to lose their money too."
One such company was the supplier Natoora. When it was revealed on Twitter that they were left £34,000 out of pocket by Jamie Oliver's Barbecoa going into administration, it prompted an outcry from the public demanding that Oliver personally pay the sum back. Even restaurant critic Jay Rayner scolded Oliver, causing a brief online tiff with chef Anthony Worrall Thompson.
Backman says it's the larger suppliers who will feel the pinch the most. "The restaurant sector is not growing hugely but it's doing okay. If that's the case if you're supplying the total market you will be flat-lining.
"However if you have a customer that's suffering then you are going to suffer, that's certainly going to happen to suppliers. There are certainly some who do their business almost exclusively with the restaurant sector."
Yet in an ephemeral market, such unpaid debts and invoices are not uncommon. One London wholesaler dryly observed on the Natoora outcry: "If £34,000 is all it was then they got off lightly".
His tone reflects the general mood from smaller wholesalers who sell to a different market made up of independent restaurants, small retailers and catering companies. Among their camp, the casual dining crunch is more of a distant rumble.
Premier Fruits' Jason Tanner says: "We serve more of the independents, not the bigger restaurants. They need to get produce from a company that can supply them all over the country and there's only a few that can do that."
Damian Fowler of Gilgrove added: "We don't supply the big guys, we're not in that market. I think the independents are doing alright. It's all the big guys that are suffering more."
The trail of debts left behind from the casual dining crunch seems to have hit those who are better able to deal with them, and they still have a growing market to work with, but they may need to become"a bit smarter", as Backman puts it.
Patel concludes: "Despite these closures, foodservice is set to grow 21 per cent to 2021. This is driven by new and growing concepts and an increase in takeout consumption, with the likes of Deliveroo and Just Eat. We are seeing a rush of young people quit their jobs in their city and start out with a food truck business.
"The growth is with the new concepts and the independents, those that are innovating. Wholesalers are needing to readjust to the new concepts and even out their customers' split towards indies – away from 90 per cent towards chains, to a more even split."