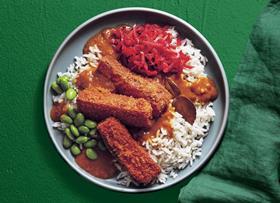 A look through the FPJ archives paints a clear picture of the sudden and overwhelming success veganism has had in moving from the fringes to the mainstream. A lonely 2003 article titled "New vegan diet cuts cholesterol" marks the first FPJ coverage of the subject, with a comic tone of coy intrigue: "Scientists claim to have devised a simple diet that dramatically reduces cholesterol without any need for medication," John Broy wrote.
Between then and 2015, however, just two more articles on veganism would grace the FPJ homepage. Fast forward to 2020, and veganism is an ubiquitous current in the wider news stream. The momentum behind veganism, driven by a coalescence of social media, foodservice, environmental and health concerns, has now reached retailers too, with a tsunami of new vegan ranges and products hitting the shelves this January.
Co-op and Asda both launched their first own-label ranges, while Waitrose announced it would be doubling its vegan range for 2020. Sainsbury's, Tesco, Aldi and M&S have also all reported great success with their vegan products with plans to ramp up their ranges. According to Mintel data, a quarter of all food product launches in 2019 were vegan. So is veganism becoming a new battlefront between retailers in the ongoing supermarket wars?
"While not necessarily a 'war', the mainstream growth of veganism is something that creates an opportunity for retailers to differentiate themselves based on their private-label offerings," says Will Cowling, marketing manager at FMCG Gurus. "This form of differentiation can be done either through cost (as some consumers can find such products expensive) or quality (as some consumers can be concerned about the taste and texture of the products). The key is finding genuine differentiation to attract consumers."
For Dawn Carr, director of vegan corporate projects at People for the Ethical Treatment of Animals, a race between the supermarkets is a more apt metaphor. "From Aldi to Waitrose, supermarkets are in a race to stock more vegan options, and chains like Greggs and KFC are offering vegan versions of familiar treats. Sainsbury's has seen an 82 per cent increase in customers searching for vegan products online and a 65 per cent increase year on year in sales of plant-based products.
"Tesco is closing many of its meat and fish counters in the UK, due to a fall in customer demand, but they have increased their vegan range, including the hugely successful Wicked Kitchen range that has a wide appeal," she points out.
The stunning figures for vegan products are all the more impressive when you consider that less than two per cent of the UK is vegan. This mismatch can be explained by the rise of "flexitarianism", a diet based around cutting back on meat in place of plant-based foods.
"It needs to be remembered that vegan products are not only exclusive to vegans. Indeed, a significant proportion of meat-eaters in the country say that they regularly look to limit their intake of meat, while others say this about dairy. As such, vegan products can appeal to non-vegans who want better-for-you occasions," Cowling says.
His research into health trends, such as immunity, mental health and better sleep, sheds light on the reasons why shoppers are moving to plant-based products, but also what they are looking for in vegan products.
"If brands are to be successful, they need to focus on two areas," he says. "Firstly, it is important that they do not make products appear healthier than they are, as this can be deemed misleading by consumers. For instance, vegan products can still be high in sugar, so it is important not to over-promote health credentials.
"Secondly, products need to be deemed compromise-free in the sense that they are seen as good value for money and there are no concerns about taste and texture."
Achieving that "compromise-free" status is hard come by however. Carr says innovation in vegan products will help teach shoppers to see veganism as a genuine option, rather than a sorry alternative for those with New Year's resolutions.
"Falafel with hummus or a squishy vegetable patty aren't going to cut it anymore. Vegan versions of familiar foods are in high demand, from dairy-free cheese pizza with jackfruit pepperoni, fish-free tuna salad made from soya and vegan mayo, and meaty vegan burgers. Many people report that once they see how tasty and satisfying vegan foods can be, they become more adventurous and the variety of foods they eat explodes to a range of grains, legumes and vegetables that they previously didn't even know existed."
Prior to the growth of supermarket ranges, many vegan ranges came from private-label food businesses such as Linda McCartney Foods, that were often labours of love from ideological start-ups trying to make a small difference. Should these vegan companies be worried about the rise of supermarket own labels? Cowling suggests not.
"As more products are launched on retail shelves, retailers are more likely to tier products in order to avoid sales being cannibalised. For instance, retailers will be able to launch portfolios that can target low-cost and high-quality occasions, having a range that is suitable for an array of consumers and occasions."
The rise of plant-based products can only be a good thing for the fresh produce industry as demand rises not only for wholehead produce, but also the ingredients used to make vegan products. Carr notes that ready meals are the fastest-growing area of the meat-free market – a big growth opportunity for the value-added and processed market. Sweet potato, peas, beetroot and mushrooms are big UK-grown crops that make the foundations of these new vegan ranges.
"The way they [producers] can capitalise on the boom is through positioning products as affordable, staple items that offer the right amount of daily nutrition," Cowling says. "It needs to be remembered that some vegan products are expensive and might be limited in terms of distribution. Brands can remind consumers that fruit and vegetables are products that they have long known and trusted and align with the trend in an affordable way."
"Vegan foods are great for the planet, our health and animals, but they're also good for business, and fruit and veg farmers have an opportunity to cash in on the demand," concludes Carr.