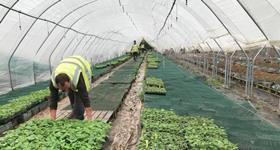 The government has launched the "Pick for Britain" website in a bid to prevent swathes of the British crops going unpicked as a result of coronavirus travel restrictions.
The new site will aim to help fill more than 70,000 seasonal workers required each year to harvest British crops.
With travel restrictions in place across Europe during the coronavirus crisis, there are major concerns over how British farms find enough workers to this season.
The Feed the Nation campaign from the Alliance of Ethical Labour Providers, HOPS, Fruitful and Concordia has proved successful in filling vacancies for early crops in April, while growers have paid extra to bring in workers early in chartered flights.
Accusations arose that British residents have been too picky to work on farms, while numerous applicants have reported being turned down, despite the publicised shortage.
The Feed the Nation programme received 50,000 application from UK residents, but only 6000 opted for an interview, with 900 rejecting the job offer, and 112 taking up roles, according toFarmers Weekly.
NFU vice president Tom Bradshaw said much more vacancies will open up as the summer progresses however.
"As the peak summer harvest approaches, we have been working closely with Defra to ensure a solution is in place for businesses to recruit domestic workers this summer," Bradshaw said.
"A dedicated'Pick for Britain'website has been created by the government that provides opportunities for people who want to work on farms this summer and we are expecting further news from the government this week on a drive to recruit people who want to help British farms.
"There will be thousands of vacancies opening up on farms across the country in the coming weeks and we have already seen a fantastic response from the public wanting to pick for Britain this summer.
"Farmers are incredibly proud to be producing food for the nation at this crucial time but there are challenges and the support of the British public is incredibly valued."