One thousand jobs to be created in Essex as building work starts on £350m fourth berth at London Gateway, says DP World
Building work has started on a new fourth berth at deep-water port London Gateway in Thurrock, Essex, port owners DP World announced today (10 October).
The £350m project, due for completion in 2024, will lift London Gateway's capacity by a third, giving it more room to handle the world's largest vessels than any other port in the country, DP World said in a press release.
The construction of the new fourth berth, situated in the port's expanding logistics hub in Thurrock, will also create 1,000 new jobs, according to DP World's UK CEO Ernst Schulze.
And once completed in five years, the port's logistics park will employ 12,000 people, he added.
"Our investment is a catalyst for the regeneration of one of the most deprived areas in the UK, which is currently in the top decile of deprivation," said Schulze.
This latest development builds on the Emirati multinational logistics company's £2bn investment in Britain over the last decade, and marks the start of a new phase of expenditure in the UK, he revealed.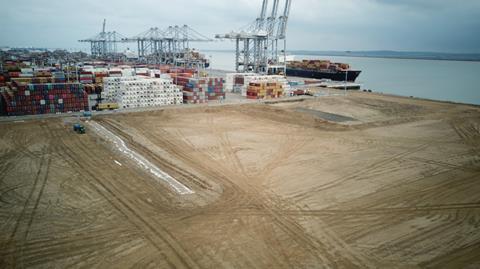 "I am delighted that we have taken the next step in delivery of the new fourth berth and made clear our commitment to investing in and regenerating the areas where we operate. Over the next 10 years we have earmarked a further £1bn of investment in this country," Schulze said.
DP World, which is based in Dubai, operates two deep water ports in the UK, London Gateway and Southampton.
DP World announced in July that London Gateway handled more than one million TEU in six months between January and June, a record for that port.
When factoring in throughput at Southampton this performance contributed to a record volume of cargo in the first half of the year for DP World's ports in the UK, with a combined total of 1,937,000 TEU.