DP World invests £12m in new rail infrastructure at London Gateway as the logistics hub expands to become one of the largest in Europe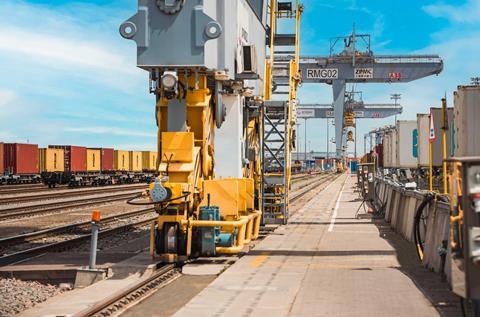 Dubai-based global port operator DP World is investing £12m in two new rail mounted gantry (RMG) cranes at its London Gateway port to meet fast growing demand for rail connections from customers at the smart logistics hub, which it says will increase the port's capacity by a third when a new £350 million fourth berth opens next year.
The £12m investment in the cranes – which are used for automated handling of containers and will be operational in time for the new berth's opening – will lift rail capacity at London Gateway by 50 per cent, DP World said in a statement earlier this year.
"We are delighted to be making a further investment in our rail capability and rail capacity with two new RMG cranes which will arrive in the same year that we open a new fourth berth," says Andrew Bowen, Port Operations Director at London Gateway. "After the disruption of recent years, shipping lines and cargo owners are looking for capacity, reliability and growth opportunities and DP World will deliver on all three fronts."
This investment is the latest step forward in DP World's journey to becoming an end-to-end logistics provider, he adds. "In November we launched a new intermodal train service connecting our container terminals at London Gateway and Southampton which will enable customers to switch volumes quickly and easily between the two UK locations."
The DP World-operated round service carries cargo, including fresh fruit and consumer goods, in less than five hours, taking up to 120 lorries a week off the roads, says Bowen. "We estimate that the emphasis on rail across both ports takes a total of 300,000 trucks off UK roads each year and we are committed to playing our part in helping the UK meet its Net Zero 2050 policy."
DP World – which operates ports, terminals and logistics businesses on six continents – runs the logistics hubs at London Gateway and Southampton: two deep water ports with access to freight rail terminals, and a rapidly expanding logistics park on the doorstep of the capital.
Together, the two terminals handled a record 3,850,000 TEU in 2022, up 5 per cent from the 3,675,000 in 2021.
London Gateway alone reported a 14 per cent rise in volumes last year to 2,053,000 TEU – the first time it has ever exceeded two million units in a year, consolidating its position as Britain's second biggest container terminal.
"We help trade flow across the globe and this outstanding performance shows our ability to deliver on our commitment to boost growth, support businesses, create jobs and improve living standards in the UK," says Ernst Schulze, UK chief executive of DP World.
"Within a decade, London Gateway is likely to be handling up to 30 per cent of the country's containerised trade. Its port-centric logistics park will be one of the largest in Europe, employing 12,000 people and underpinned by investment in a second rail terminal and a new fourth berth."
"At Southampton, we are investing to future-proof the port by improving its infrastructure and introducing warehousing facilities for our customers. We are committed to expanding its capacity as well as making it one of Britain's most sustainable ports."
Over the last 10 years DP World has invested £2 billion in the UK, supporting thousands of jobs. Over the next 10 years the logistics provider has earmarked a further £1 billion of investment, with a £350m new fourth berth at London Gateway now well under construction.
The fourth berth will lift capacity by a third when it opens in 2024. The construction project is supporting 1,000 jobs and the port-centric logistics park will employ a further 12,000 people when it is completed in four years' tim