Global port and logistics firm scoops sustainability award at UK logistics event Multimodal 2023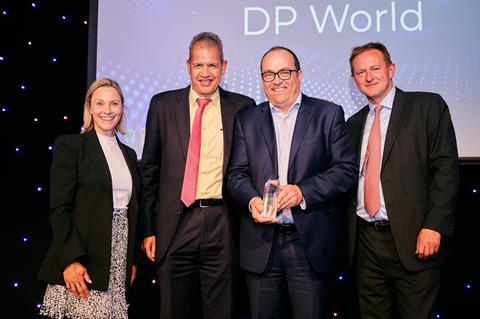 DP World, the Dubai-owned provider of global end-to-end supply chain solutions, has won the 'Sustainability Company of the Year' award at the logistics industry's flagship event in the UK.
The logistics business also picked up the 'Port Company of the Year' award for the second time in three years at Multimodal 2023, the industry's annual meeting place where cargo owners and shippers attend to find ways to improve their supply chains and discover innovative ideas to solve transport issues.
Ernst Schulze, UK chief executive of DP World, said: "Our ambition is to become the most sustainable logistics business in the UK, and I am delighted that the judges have formally recognised the progress that we have made. We will mitigate the impacts of climate change by becoming a net zero logistics organisation by 2050 and continue to do everything we can to help customers on their own decarbonisation journeys.
"Above all, I'd like to thank the teams responsible for delivering initiatives like our 55 per cent reduction in net carbon emissions from fleet and installations at Southampton after we transitioned to Hydrotreated Vegetable Oil (HVO) and our £12m investment at London Gateway in the first all-electric fleet of straddle carriers to go into commercial operation at a port anywhere in the world. More initiatives will follow like our 'Modal Shift Programme', which increases the attractiveness of intermodal rail for customers through the use of financial incentives."
Richard Ballantyne, chief executive of the British Ports Association, who was also a judge at this year's Multimodal Awards, added: "The standard of applications was outstanding and so it makes the company's achievements all the more impressive. In particular DP World's work in the environment has been cutting edge and was recognised with this year's sustainability award.
"Indeed, its moves towards the electrification of port equipment and utilisation of low-carbon technologies, its modal shift freight rail programme as well as the implementation of a Hydrotreated Vegetable Oil fuel strategy at Southampton are all included as some of the exciting examples of great work in this field."
The annual Multimodal Awards recognise excellence in air, road, rail, maritime, and freight forwarding services and are voted for by the thousands of readers of the Multimodal Newsletter and exhibitors and visitors to Multimodal at Birmingham's NEC. It styles itself one of the fairest industry awards as companies are nominated and voted for by the industry, for the industry through an independent nomination and voti