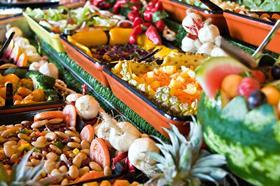 Healthy options are getting the better of so-called 'dude food' in an intense battle for menu space, new research shows.
Horizons' biannual Menu Trends survey, which tracks changes on 800 high street menus, says the current trend for healthier meals is having a profound effect on the foods listed in the nation's restaurants.
Main course salads have seen a 54 per cent surge in popularity and have reached number four in the most frequently listed products chart, while pulses and fruit have been among the largest year-on-year risers. The term 'superfood' was also used 75 per cent more often than a year ago, Horizons noted.
Blokey food options such as burgers and hot dogs have suffered at the hands of the healthy trend, slipping down the ranking of popular items. Burritos, by contrast, are 56 per cent more popular.
In further positive news for the fresh produce sector, vegetarian dishes now have twice the share they held in 2010, with 21 per cent of eating-out brands offering a vegan option.
"The trend for healthy and lifestyle eating is becoming more popular and high street menus are now reflected this," said Horizons' managing director Peter Backman. "Operators now have to make a difficult decision about what to keep on their menus. It's important they stay in touch with what's hot and what's not."