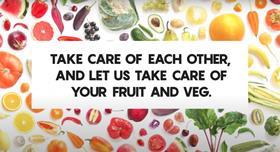 A campaign to promote fruit and vegetables in the Netherlands is helping to boost morale and underline the importance of fresh produce to public health as the coronavirus pandemic continues to disrupt countless aspects of daily life.
Industry body GroentenFruit Huis said it had launched the project as a call to arms for the sector itself, calling on all those working in all parts of the fruit and vegetable supply chain to help consumers maintain a healthy diet.
'Take care of each other, and let us take care of your fruit and veg,' is the campaign's rallying cry. "Right now we need to take good care of ourselves and each other," the group said in a statement. "Healthy eating with plenty of fresh fruit and vegetables, every day, is part of that."
The promotion, which is going to run for a minimum of six weeks, aims to get the message to as many people as possible. "The more often people come across the message, the better it arrives."
The group added: "Life in the Netherlands has been turned upside down. But the tomatoes are ripening just the same. The strawberries and mangoes will be as sweet as ever. And cauliflowers are growing just as they should. Our fields and greenhouses are growing plenty of fruit and veg.
"Thousands of people are doing everything they can to deliver the fresh produce to your doorstep. From growers, pickers, packers and traders, to drivers, supermarket shelf stackers, and your greengrocer. So that at any time, there's always plenty to make for fresh, healthy and varied meals."