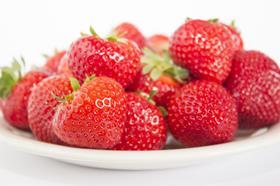 Dutch berry growers Flevo Berry have launched a new strawberry variety dubbed "Sonsation".
The company said it was their first variety that bears its fruit midseason, and has a low susceptibility to the root disease Phytophthora, making it a hardy crop.
The name is combination of the word sensation and a play on the Dutch word "zon", meaning "sun", because according to co-owner of Flevo Berry Jos Goossens, that's what you experience when you taste the berry: "The sensation of the first rays of the summer sun."
Steven Oosterloo, commercial director of Flevo Berry said: "Sonsation fits into our philosophy. In developing new varieties we always look ahead. It can be done differently and it really must be done differently, so for us, flavor and sustainability are at the top of the list. It is a part of the way we think.
"You can use Sonsation in a variety of growing systems. From normal conditions and cooled environments to cultivation on racks and on substrate in greenhouses. The variety is easy to grow and juicy, making it appropriate for both direct sale and retail."
Marcus Suiker, owner and plant breeder at Flevo Berry added: "Our focus has mostly been on developing early-bearing, everbearing and late-bearing varieties. We had not done much work on varieties that bear their fruit midseason – because everybody else has been working on that kind.
"I wanted to see an improvement in the way our new varieties set fruit and develop; I wanted to see a higher percentage of class 1 fruit production, better flavour and a nicer gloss on the fruit in the mid-season varieties."