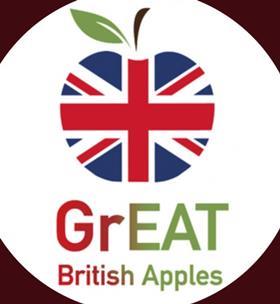 Topfruit industry body English Apples & Pears has rebranded as British Apples & Pears in a move it says will better help the industry take advantage of future opportunities.
Speaking at a celebration of the start of the season at the Houses of Parliament last night (10 September), British Apples & Pears executive chair Ali Capper explained that the rationale behind the decision was about "recognising the whole of the UK, but also about making sure we have an eye on export opportunities.' She added that the word British is 'a brilliant word for exports."
Topfruit growers were among a number of British companies to exhibit at last week's Asia Fruit Logistica trade show in Hong Kong, and the switch by the trade organisation emphasises the potential to leverage the good reputation of British food abroad.
The change came as the British topfruit industry unveiled its first-ever white paper, produced in conjunction with The Grocer magazine and featuring contributions from government, the Fresh Produce Journal, trend forecasters WGSN Insight, research institute NIAB EMR and King's College London. The report focuses on a range of key topics, from market dynamics and consumer behaviour to health, nutrition and sustainability.
For the months ahead, Capper predicted that growers are looking at a "really great season" with quality fruit coming through, and reiterated the goal to increase British apples' market share from the current 42 per cent to 60 per cent by 2030.
"What we need is to make sure that growers can continue to invest in their orchards," she said. "We are very ambitious to move that share up."
An Apple A Day
British Apples & Pears has brought back the 'An Apple A Day' strapline for its promotional campaign this season, which Capper said emphasises the health and snacking messages, backed by press coverage, social media content and influencer endorsement.
On the subject of industry concerns, Capper highlighted worries about labour – despite new assurances that EU workers will be able to come until December 2020 – the future of producer organisation funding, trade deals, rising input costs and the impact of seasonal tariffs.
"Let's hope common sense prevails and the new Prime Minister and his government manage to get a deal," she concluded. "We just want an orderly, sensible Brexit and we need business certainty. We are a really ambitious, innovative, forward-thinking industry. We need sensible government policy that will help us achieve those ambitions."