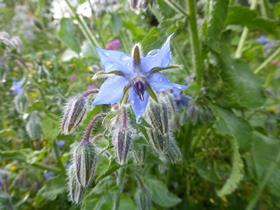 Vitacress and the Royal Horticultural Society (RHS) have announced the winners of the first RHS Young Herb Photographer of the Year.

The competition, which received more than 340 entries, set out to find the UK's best young photographers using living herbs as the subject.
The winner of the ages five to ten category was 8-year-oldIndra Woodward, from 11th Newham West Scout Group in London
Her photo subject was borage.
The winner of the 11 to 17 age category was 11-year-old Theo Harding-Rolls, from Thomas's Clapham School in London, whose photo subject was rosemary.
The competition was launched through the RHS Campaign for School Gardening, a nationwide initiative that inspires and supports schools to provide children with gardening opportunities to enhance their skills and boost development.
The competition invited pupils to capture photographs of living herbs growing in the wild, garden or a setting of their choice and was the perfect opportunity to encourage children to explore the outdoors and cultivate a passion for growing.

The runner-up in the former category was Sophie Henderson, a 6-year-old from Stonham Aspal C of E VA Primary School in Suffolk, and whose photo subject was cardoon, while the runner-up in the latter category was Rowan Atchison, 15, from Lomond School in Argyll and Bute. His subject was Greek basil.

Vitacress's Chris Moncrieff said: "Vitacress was proud to sponsor this competition. As the UK's leading fresh herb producer, it is fantastic to see so many children getting involved and interacting with nature, and if that's through photography then that's fantastic. The entries were really imaginative and we saw great use of colour and detail. Picking the winners was really tricky."

The two winners of the competition won an iPad Air, worth approximately £300, and £500 of horticultural materials for their school or group.
The two runners up won an iPad Mini, and £250 of horticultural materials for their school.

In addition to the four prizewinners, the judges selected a number of photographs that will be displayed in a special photographic exhibition at the RHS London Botanical Art Show on Friday 26 and Saturday 27 February 2016.

The judging panel comprised representatives from Vitacress and the RHS Campaign for School Gardening, as well as herb expert and broadcaster Jekka McVicar, chair of the RHS Herb Group Lady Bacon, and Garden Media Guild photographer of the year 2014 Jason Ingram.

Vitacress is one of the UK's largest growers and suppliers of fresh herbs for the UK retail market.
The RHS Young Herb Photographer of the Year competition is part of the RHS Campaign for School Gardening, which is now inspiring and supporting more than 22,000 schools across the UK with their gardening activities.