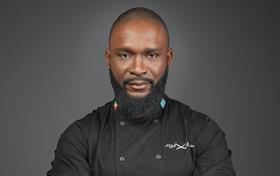 When you think of today's celebrity chefs, it's hard to get away from the stereotype of posh-accented, messy haired white people, working away to produce somewhat pretentious food in middle-class kitchens.
Mick élysée, therefore, comes as a breath of fresh air. The Congo-born cook, who now works as a private chef in London, has had a remarkable journey from the war-torn African republic to the kitchens of Europe and is hoping to wow the British public with a style of fusion cuisine that will stretch their culinary boundaries.
élysée's love of cooking started young. "For me the best chef was my mum," he recalls. "She's the one that inspired me, because actually when I was young I was spending more time playing around food with my mum in the kitchen than playing football outside."
Sadly, tragedy struck when élysée's family were killed during the Congolese civil war in 1993 and at the age of 14 he was forced to flee to France as a refugee. While such hardship could have sent others down the wrong path, élysée clung to his love of cooking and was spotted by one of France's most prestigious culinary schools, training under Michelin-starred chefs and going on to open his first restaurant in Toulouse at the tender age of just 22.
Developing a style that fuses his African roots with classical European training and a hint of the Far East, London-based élysée now works for himself, pursuing a variety of culinary projects and private work as he builds his reputation in this country.
Listing the humble apple as his favourite fresh produce, élysée has a simple message in an era when chefs have a tendency to overcomplicate: "A few years ago this type of molecular food was booming, but now we are going back to basics," he explains. "Food is about eating, not about [aesthetic] impression. Some chefs forget that – when you make a dish, you have to be consistent, healthy and tasty."
This back-to-basics approach doesn't mean he's playing safe. Indeed, some of élysée's more elaborate dishes feature such oddities as caterpillar and crocodile, and he believes the British public are ready for these culinary creations. Further, he points out that caterpillar, for example, is rich in protein, fibre and iron, and he stresses that eating a wider spectrum of cuisines from different cultures can help overcome growing fears of food shortages.
That ties into élysée's concerns over the health of the nation. "As a parent of two little girls myself, I'm concerned," he admits. "Most of the kids are overweight, which is very painful. It's a big concern, as it costs the government a lot of money. We need to educate people to eat more healthy food, as well as when to eat it. As some people know what to eat, but not at what time."
An advocate of taxing fast food and sugary drinks, élysée says the educational job should extend to chefs too, who could learn a thing or two about helping the public to eat more healthily. "Some chefs know how to cook, but they lack nutritional knowledge," he points out. "As chefs we are part of this healthy movement. So I think it's very important for chefs to be trained, or have more knowledge of, nutrition. Food is not only about eating, it can cure illness for example. It's important for chefs to know that – it's not just about the food."
Given his love of healthy food and propensity to use lots of veg in his dishes, it's no surprise that élysée lists Jamie Oliver as one of his heroes, alongside French fusion pioneer Pierre Gagnaire.
He might be in a different world now, but élysée hasn't forgotten his roots – on 3 March he is opening a pop-up restaurant in London, which he describes as "a low-cost Congolese dining experience." Crucially for élysée, he's working with the Wonder Foundation charity to help raise money for people on the streets of his home country, adding to the work he does with schools and orphanages in Congo to help give the next generation the skills to make cooking a career option for them as well.
It's all about giving back, and combined with a desire to spread a message of healthy, tasty eating, it's clear this is not just another chef simply interested in self-promotion.