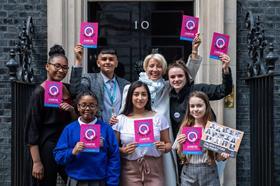 As many as five million people living in households with children in the UK have experienced food insecurity during the first five weeks of Covid-19 lockdown, new figures from the Food Foundation indicate.
A YouGov poll commissioned by the organisation found that a staggering 2.4m children are living in food-insecure households, while two million more have received smaller portions, a reduced number of meals and/or low-cost, less nutritious meals because their parents have run out of food.
Households struggling to access to enough food has meant more than 350,000 children have had times when they've not eaten enough, because there wasn't enough food, since lockdown started.
Food insecurity driven by isolation and economic hardship in households with children has doubled since lockdown came into effect, the study found, with parents in 2.8m households with children reporting a loss of income.
Half a million of the children who normally receive free school meals have received no substitute at all since schools closed. A further 130,000 children are stuck with an online code which they cannot download to redeem vouchers for buying food.
Higher levels of food insecurity were also reported by NHS workers in households with children: 17 per cent had skipped a meal, 11 per cent had been hungry and not eaten because of a lack of food, 9 per cent had not eaten for a whole day and 5 per cent said their child hadn't eaten enough.
The figures come as the Trussell Trust reports an 81 per cent increase in people needing support from food banks at the end of March compared with the same time last year. Demand from children for food bank services has increased by 121 per cent.
The Food Foundation has called on the government to stop food insecurity driven by lack of money by implementing an emergency income support scheme to ensure people can buy the food they need to stay healthy at home.
The DWP must abolish the five-week wait for Universal Credit, it argued, and must make child benefit a fortnightly payment - thereby doubling it - as well as removing the benefit cap.
Last week, the government responded to calls for a new cross-departmental ministerial task force focusing on vulnerable groups, which has now been established. This must support a national coordination mechanism to address unmet need for food security.
Dame Emma Thompson calls for government action
Over a year ago in April 2019, Dame Emma Thompson joined the Children's Right2Food campaign Young Food Ambassadors at 10 Downing Street to call for the establishment of a new, independent Children's Food Watchdog to monitor and improve children's food. The government has yet to provide a formal response.
Dame Emma, a Children's Right2Food campaign ambassador, said: "Families who were fighting to put food on the table before Covid-19 now find themselves in an impossible position: just a month of lockdown has seen five million parents and children experience food insecurity. What is undeniable is that our government has yet to extend real lifelines to those who cannot afford food. We need emergency income support to put money in the pockets of families who are suffering, and DWP must ensure child benefit payments are increased and sufficient for alleviating the hardship so many children are enduring."
Anna Taylor, executive director of the Food Foundation, said: "Protecting our children should be a priority, but we're leaving them behind in conversations about emergency support and they're falling through the cracks as a result. Having enough nutritious food to eat is a basic right, and without it children's mental and physical health suffers irreparably. The government must act now to put money in the pockets of families who are struggling so that they can buy the food they need to be healthy at home."