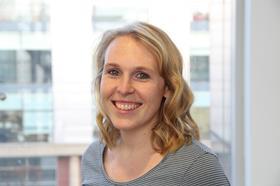 Energy specialist Charlotte Penn has joined vertical farm and glasshouse builders CambridgeHOK as its new Business Development Manager.
Penn has a background in developing innovative energy solutions after two-and-a-half years in business development working for Spencer Group, and says she is excited by the prospect of helping food businesses to invest in energy efficient solutions.
During Penn's time at Spencer Group she was involved in work within the nuclear sector, with her former firm having just been selected as a delivery partner by the National Nuclear Laboratory (NNL) to design and build experimental rigs, enabling NNL to develop new and emerging technologies for the nuclear industry.
She was also appointed to the board of directors for the Britain's Energy Coast Business Cluster, a lobbying group shaping the future of the energy industry and charged with bringing new ideas and a fresh perspective to industry.
Penn said: "I have been fortunate that throughout my career I have been involved in a multitude of different energy projects across the UK and that has given me a great insight into how energy solutions can be adapted to various industries and implemented effectively.
"I am from an agricultural background myself, and both increasing efficiencies in food production and helping businesses reduce their carbon footprint have always been something I have been passionate about, so the chance to join CambridgeHOK was very exciting for me as it combines two of my real passions."
CambridgeHOK works across a range of agricultural sectors, constructing glasshouses, vertical farms, combined heat and power (CHP) units and facilities.
The company recently developed a steamer crate that sterilises plant trays and equipment to combat the Tomato Brown Rugose Fruit Virus.
Steve Hinch, finance director at CambridgeHOK, said: "We are delighted that Charlotte agreed to join our energy team at a time when we are seeing increased demand for help from growers and food processors.
"We are confident Charlotte will bring new ideas and knowledge to ensure we are able to create even more efficient and cleaner energy processes for our clients.
"Our focus is always on cleaner and greener energy generation, delivering reliable energy technology innovations for businesses which are keen to take control of their energy costs and make significant savings from their processes."