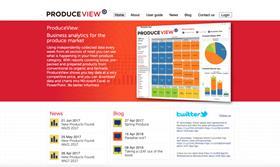 British Growers has teamed up with England Marketing to enhance its Produce View price-analysis service.
Produce View, a subsidiary of British Growers, has been collecting and analysing retail pricing data for more than a decade, making it available to a wide range of clients across the fresh produce industry. However over the past two years it has been looking for a new partner to help take the service to a new level, the organisation said.
From 1 June Produce View will be working with market research specialist England Marketing to enhance and develop the service and product offering.
'The partnership will enable us to blend traditional market research techniques with the most up-to-date technology available in the industry,' explained Produce View operations director Lisa Eagles. 'Accessing new technologies and the analytical expertise available through England Marketing will enable us to offer a wider, more comprehensive insight into retail pricing trends.
'The board and senior team at British Growers have been involved in an extensive search to find the right partner to take this business forward. We are very confident that England Marketing, with its extensive contacts across the fresh produce business and strong reputation for cost-effective research, is the right partner and will help us take the business forward.'
England Marketing has invited customers of Produce View to get in touch with feedback on the service and suggestions for improvements.