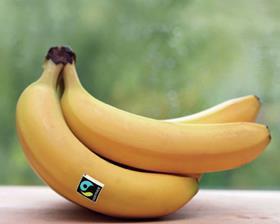 The Fairtrade Foundation is running a mini campaign across its channels to coincide with Banana Lovers' Day on 27 August.
The campaign showcases inspiring Fairtrade farmer stories about a Colombian women's group with a waste-free banana business. It will also feature a 'banana lover's checklist', together with new materials in celebration of the five UK retailers that are committed to selling 100 per cent Fairtrade bananas.
As part of the initiative, Fairtrade is collaborating on a new video with Caught Creating, the people behind the successful Caught Snackin' TikTok account.
Among the facts that will be promoted during the campaign are that:
- bananas are classified as a fruit, but are also a herb. They are also distantly related to ginger;
- Fairtrade supports 22,000 banana farmers and workers to receive a fair wage and decent working conditions;
- in the UK, people eat an average of five billion bananas per year;
- one in three bananas bought in the UK is Fairtrade, making a huge difference to thousands of farmers, workers and their families. But if all bananas bought in the UK were Fairtrade, banana farmers worldwide would be much better off.
Despite their broad appeal, in the last decade the price of a banana bought in a UK supermarket has dropped from around 18p to just 11p. While supermarkets have almost halved the shelf price of loose bananas, the cost of producing them has doubled, the Foundation points out. This means that many banana farmers and workers' standard of living have progressively worsened, it adds.
At the same time, Panama disease is posing a big challenge for banana farmers, and climate change is making it worse. Caused by a fungus which attacks the roots of banana plants, it has wreaked havoc on banana plantations across Asia and has now reached Latin America.
Focus on women's group
The members of ASOCOOMAG Women's Group, set up using the Fairtrade Premium with support from trading partner Fyffes, are all connected to the five Fairtrade certified banana co-operatives in the Magdalena region of northern Colombia.
Since the group's beginnings in 2019, they have found creative ways to transform not just the fruit, peel and leaves, but also the gloves and plastic bags used to harvest bananas, into a wide range of products. In their hands, plastic bags become toys and furniture, and banana leaves become earrings and lampshades.