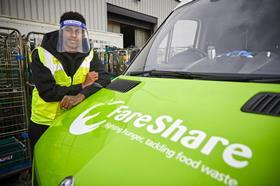 Support from footballer Marcus Rashford, the UK government and many of the UK's major food retailers has helped FareShare to more than double food provision and distribute food equivalent of 128.5 million meals to vulnerable children, families and individuals in the past year - the equivalent to four meals every second.

Twelve months on from when nationwide lockdowns were first introduced, the UK's biggest food charity is marking its one-year anniversary of working with the 23-year-old England International footballer. Rashford's powerful campaigning placed the issue of child poverty at the top of the news agenda, capturing the hearts of the nation and transforming FareShare's impact fighting hunger and food waste.

Rashford first partnered with FareShare in March 2020, when the news of school closures was announced, because he was concerned that millions of children would be at risk of going hungry with the safety net of free school meals and school breakfast clubs removed. Since then, the financial donations from Marcus, his fans and followers alone have funded the redistribution of food equivalent to over 21 million meals by FareShare – two thirds of which are being provided to children and families via projects such as schools, foodbanks and Covid food hubs.

Rashford's vocal support for FareShare has also been recognised by the charity's Greater Manchester operation, which secured an additional warehouse in Openshaw last year thanks to funding from Asda. The new site was named Melanie Maynard House, in honour of Rashford's mum and in recognition of his impact, and as a tribute to all parents and guardians, who work tirelessly to bring up children in challenging circumstances. FareShare Greater Manchester is aiming to launch the new warehouse this summer, after an extensive refurbishment of the space is completed.

The support of many of the UK's leading retailers, all of which are members of Rashford's Child Food Poverty Taskforce – with unprecedented food donations, funding, logistical support and donating warehouse space, and the grants provided to FareShare to procure food on behalf of the UK government, has helped transform FareShare's impact over the last year. Across the rest of the FareShare network, 10 other regional centres have also taken on additional warehouse space in response to increasing need from communities.

Rashford said: "It has been a real pleasure being on this challenging but rewarding journey with FareShare over the last year. The staff, the volunteers and the families I have met have been incredibly supportive and brave with the stories they have shared with me. I've made no secret of my desire to see the end of hunger and food insecurity but for the need we have right now FareShare are doing a phenomenal job and I will continue to provide them with as much support as they need."

Despite the gradual easing of lockdown restrictions, a survey of FareShare's network of charities has revealed that 90 per cent anticipate demand for FareShare food will remain as high as crisis levels. Job loss, debt and mental health are cited as the three top reasons for people needing to access FareShare food.

Lindsay Boswell, FareShare chief executive, said: "We can't believe a whole year has passed since we first joined forces with Marcus Rashford and more recently the taskforce members. The impact of the Covid crisis has meant that the need for food support has never been greater, particularly among children and families, but with Marcus as our ambassador, and standing shoulder to shoulder with taskforce members, we have never been better placed to step up to the challenge and support communities in need.

"Marcus' compassion and authenticity by sharing his own personal experiences is what has made his campaigning so powerful, and we couldn't be more grateful for his support. Working with Marcus and as part of the Child Food Poverty Taskforce, together we have truly built public and political will to tackle the issue of child food insecurity and we look forward to building on the achievements of the past year, as we work to a hunger and food waste free future."

FareShare is a founding member of the national Child Food Poverty Taskforce, a group of organisations spearheaded by Rashford, which is calling on government to take action to tackle food poverty among children and families. Research by the Food Foundation reveals that 2.3 million children have experienced food insecurity in the last year – and the FareShare network is doing all it can to get as much good-to-eat surplus food as it can to these vulnerable communities.

FareShare is the UK's largest food redistribution charity network, with more than 30 warehouses across the UK representing 18 independent food redistribution charities. It takes food from the food industry that can't be sold in shops, either because of packaging errors, a short shelf life or overproduction, and redistributes it through a network of 11,000 frontline organisations, across the UK such as homeless hostels, school breakfast clubs, domestic violence refuges, older people's lunch clubs, food banks and hospices.