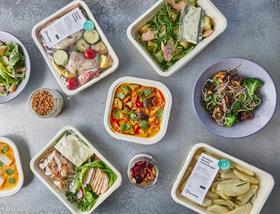 Ethical online delivery service Farmdrop has launched anew rangeof ready meals and convenience products grown by its community of sustainability-focused producers.
The London-based start-up says the Made by Farmdrop range is "inspired by nature and governed by the seasons", with every meal ingredient sourced from Farmdrop's existing community of farmers and growers.
The meals, which include breakfast pots, on-the-go salads and 'no-fuss midweek dinners' are delivered to people's homes in 100 per cent plastic-free packaging.
Dishes include aMiso Aubergine Noodle Salad, aCoconut Fish Curryand aSeasonal Halloumi Tray Bake, with plenty of vegan, vegetarian and gluten-free options.
The breakfast pots are made from glass and can be collected by Farmdrop to be re-used in future orders, while the lunchtime salads and evening meals are packaged in a recyclable cardboard tray and sealed with a home-compostable plastic-free film in a compostable, plastic-free sachet.
The film and sachet are made by Natureflex from certified renewable forestry and produced in the UK.
In addition, Farmdrop said it will be working with producers to incorporate surplus or glut produce in all its ready meals in a bid to tackle food waste.