Enigma II and III will focus on tomato disease and vertical farming guidance
Fera Science has launched two industry-led Enigma research projects, connecting tomato growers and vertical farming organisations with world-class science to help solve the most pressing sector challenges.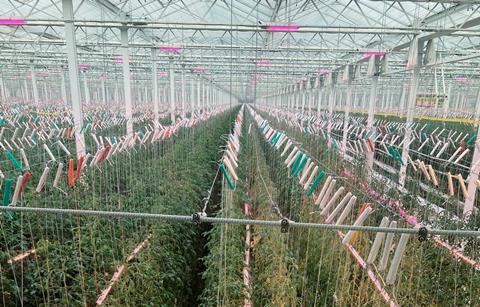 The Enigma II project is aiming to tackle the rise of tomato brown rugose fruit virus (ToBRFV), working with growers to build a more effective toolkit for disease monitoring, prevention and outbreak management.
The project is being spearheaded by Fera's virology team, which has been involved in ToBRFV research since the virus was first identified in 2014.
"A ToBRFV outbreak can be devastating to a business, depleting crop yields significantly," said Adrian Fox, principal scientist on the Enigma II project and lead plant virologist at Fera. "We know the virus is now present in 35 countries, posing a serious biosecurity concern for growers worldwide."
The sector urgently needs a greater understanding of the virus to be able to fight it, as current strategies are ineffective, Fox added. "With Enigma II, we plan to use growers' insights and experience dealing with the disease to develop a more effective ToBRFV management strategy.
"This will include creating robust surveillance and diagnostic protocols and developing guidance on the role of varieties marketed as 'highly tolerant'."
Vertical farming guidance
Also launched with a collaborative approach, backed by the Food Safety Research Network and run in partnership with the Fresh Produce Consortium (FPC), the Enigma III project will build the 'first-of-its-kind' food safety guidance for the vertical farming sector.
"For new technologies to secure their place, there needs to be a consistent and verified approach to producing food," explained FPC regulatory and communications manager Kelly Shields.
"FPC is excited to be part of Enigma III, which seeks to bring together science and practical applications of best practice, to give industry guidance that can be consistently and appropriately applied – ensuring due diligence for producers, safe produce for consumers and brand protection for retailers and food service providers."
By early 2024, the project aims to develop a scientifically validated guidance document for UK growers, which accurately matches the specific settings of vertical and controlled growing environments.
It will be tried and tested by vertical farming organisations collaborating on the Enigma III project, said Enigma projects director at Fera, Adam Bedford.
"Our effective Enigma model is to work hand-in-hand with growers and organisations to shape actionable guidance from science-driven research," he said. "Therefore, we encourage any organisations growing tomato crops and/or fresh produce in a controlled environment to register their interest in collaborating on our Enigma II and III projects as soon as possible."