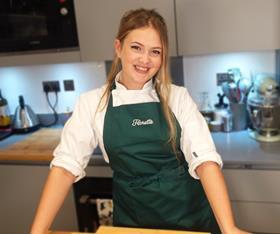 Florette, the No.1 brand in the UK's £598 million leafy prepared salads market, has announced a partnership with social media sensation, Poppy O'Toole – better known as Poppy Cooks.
Poppy shot to fame last year posting simple recipes and food hacks, amassing millions of followers across social media, after the pandemic left the Michelin trained chef out of a job.
The campaign includes a series of recipes and videos created by Poppy using Florette, competitions and exclusive content, and seeks to inspire shoppers to enjoy great-tasting, healthier food choices throughout the winter months.
Tessa Dunbar, brand manager at Florette UK said: "As the clocks change and the cold weather draws in, soups, stews and casseroles are unsurprisingly among the go-to dishes for Brits this winter, however salads remain firmly on the menu. Research shows more than a third (34 per cent) of Brits continue to eat salad through the winter months, including side of plate servings and festive favourites such as the classic prawn cocktail (23 per cent). We'd urge retailers to ensure they have a good selection available in store to meet demand."
"We're delighted to be partnering with Poppy, who has become a household name thanks to her tasty, fresh and inspiring posts – attributes we value as a brand. With her incredible following, demand will only increase as shoppers seek out the ingredients to replicate her inspiring winter warmer recipes!"
The six week campaign runs throughout November into December.
In conjunction with the campaign, Florette will bring back its 'Merry Crispy' packs for the festive season. The limited edition, which transforms 170G packs of Florette Crispy, saw over 1.2m packs sold over a six week period last year.
Florette has sold 38m packs of salad in the last year and continues to be the number 1 brand in the category.
"We have a loyal shopper base with 1 in 4 shoppers buying the brand annually,' says Polly Davies, category controller at Florette UK. 'Within LPS, shoppers continue to place their trust in the brand and are buying Florette +6 per cent more than they did last year (which is almost double the LPS category frequency growth, showing that Florette continues to be the signpost for the category).
"The great British weather hasn't dampened shoppers love for the category with an extra 15.7m salad packs sold this year vs last year (+3 per cent),' she adds.