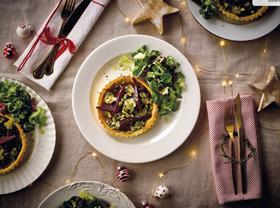 Florette has highlighted the popularity of its salads in the winter months, and has warned UK retailers that those who don't maximise sales of salad during winter could be missing out.
The salad brand said that it normally welcomes 250,000 more shoppers during December as the appetite for winter salad increases, with this figure expected to grow in 2020.
The group said that there was more retailers could do to convince consumers to eat salad all year round, such as highlighting how combining ingredients like Brussels sprouts, cranberries and beets could add a new taste dimension to salads.
"What we see is that fresh categories really thrive during winter as they are a core part of the traditional Christmas meal, with parsnips, carrots, sprouts and potatoes a firm favourite,' said Polly Davies, category controller at Florette.
Capitalising on health messages at this time of year also offers consumers reassurance, Florette said – for example, spinach is a good source of the vitamins A, K and folic acid to help immunity.
Consumers are now more than ever looking to find a balance between the foods they love, while trying to stay healthy during the winter months and whilst many are working from home, Florette outlined, making maintaining a healthy diet a key part of this.
'The emphasis and public awareness around health has never been higher than in 2020 as a result of the coronavirus pandemic, so at Florette we expect this years' sales during the month of December, to supersede the growth we experienced last year,' Davies added. 'It will pay for retailers to start thinking about how they incorporate fresh into their Christmas merchandising now."