Fresh produce heads challenged the government's handling of the labour crisis when Defra minister Victoria Prentis took to the stage at Festival of Fresh (FoF) yesterday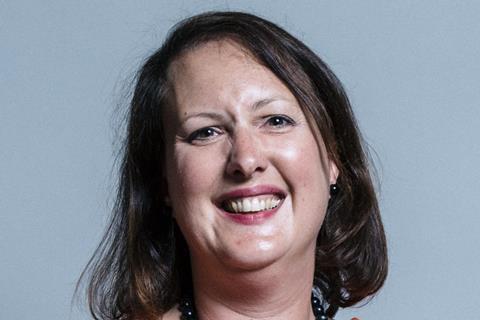 Boris Johnson's government is keen to boost the UK fruit and vegetable industry and support the sector in becoming more self-sufficient, Defra minister Victoria Prentis told Festival of Fresh delegates yesterday (8 June).
Speaking at the conference organised by the Fresh Produce Journal (FPJ) and hosted by fruit cooperative Berry Gardens near Maidstone in Kent, Prentis said that although the UK was "not in a bad place" compared to other countries when it came to food self-sufficiency, the government is keen to boost the fruit and vegetable industries, which currently produce 16 per cent and 55 per cent of volumes consumed domestically.
When asked by the FPJ's Michael Barker what the government is doing to help grow the sector, Prentis acknowledged that current area-based subsidies did not benefit fruit and vegetable growers, but said her department is looking at ways of spending "the same subsidy pot" that would be beneficial to the fresh produce industry, and is in dialogue with produce industry heads on that.
Prentis said she hoped that there would be an aspirational target for UK-grown fruit and veg production in the government's food strategy, due to be released next week.
On the emotive topic of agricultural labour shortages and the current government seasonal worker scheme, Prentis said the government is "very willing to help".
Securing seasonal labour is "a cross government decision" Prentis reminded the audience. "I am a plum farmer, and labour has always been a problem," she said. "Where we are at the moment is a better place than last year. We are the only sector that has a carve-out of the immigration policy, which is right because local people aren't going to do the seasonal agricultural jobs.
"I was pleased with the 40,000 seasonal worker visas assigned to agriculture this year (up from 30,000 visas last year). We agreed the extra 10,000 visas at 9pm last night. But at the same time, we [the agriculture sector] have to keep proving we are doing everything we can to develop the indigenous work force and automation."
When asked about the rise in minimum hourly wage for seasonal staff to £10.10 mandated by the government, Prentis said: "We can't have a situation where you pay local staff less than immigrant labour. I think we will manage £10.10 this year. I know this is higher than some businesses would like. Many of our year-round jobs could be made more attractive to our local population. Meanwhile, we've lost the habit of picking fruit as a first job in this country. We need to do more we can with the UK temporary workforce, such as students, in the summer.
"The pick for Britain push made some difference at the start of the pandemic. But it [securing domestic seasonal labour] remains a real challenge when compared to other temporary jobs in the warm and dry."
On UK fruit and vegetable export opportunities, Prentis said she saw potential for UK apples, cherries and asparagus, but believed opportunities were limited. "I'm very keen to boost domestic sustainability, if I'm honest. I think there are some opportunities and we (Defra) are working much better with the department of trade."
Prentis said she was excited at the prospect of new gene-editing legislation in the UK. "I'm quite proud that we are leading in this. We need to bring the public with us on this. I tend to call it plant breeding, which is not much different to what my grandfather did. I think to engage the public we need to talk about how gene-editing will help pesticide reduction. We also need to keep making the case with the Scottish government to come with us on this. We need to use the right words and highlight the benefits, and do it in a coherent and gentle way."
In the q&a session that followed Prentis's interview with Barker, the audience challenged the Defra minister over UK seasonal labour shortages and the government's handling of the crisis.
Ali Capper, BAPL chair, said that while her association was delighted to hear that an extra 10,000 workers were coming, the industry needed those workers yesterday. She added that a cap on energy costs for fruit and vegetable businesses would also really help the sector remain viable.
Tim O'Malley, managing director of Nationwide took Prentis to task over her statement that the sector was in a "better place than last year" and over the government's slow response to replacing Ukrainian workers.
"It's been disastrous this year," he told Prentis with visible emotion in front of a packed audience. "Lettuce growers haven't harvested millions of heads. Three of our asparagus growers are skipping crop. There are millions of lettuce heads and thousands of tonnes of veg going unpicked. You need to get a reality check."
To which Prentis replied: "I definitely have a reality check. I am totally aware there is a problem [with seasonal labour]. I am working as hard as I can to get this done. We agreed the extra 10,000 seasonal workers at 9pm last night. But we need to work as hard as we can to use home workers.
"I would say we did start to prepare for a replacement to the Ukrainian workforce in January before war broke out, and the four [SAWs] agencies have busted a gut to get replacements. I do think we have done the right things. We have planned in advance. We have helped the four agencies to look elsewhere. And I do think things are getting better."