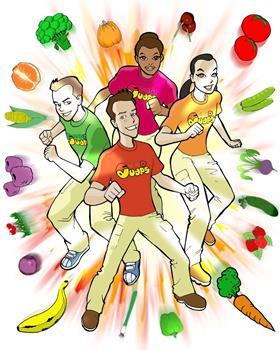 Healthy eating programme Food Dudes has won a prestigious contract to become part of the School Food Plan 2014, enabling it to expand nationally.
The scheme, which uses cartoon characters to incentivise children to eat fruit and vegetables, will provide a 'Food Dudes Dining Experience' in over 310 junior schools in the South East, South West and East of England.
Although it has been taken up nationally in Ireland and completed several trials in England, Food Dudes currently operates in only one junior school in London.
But the School Food Plan tender will allow it to roll-out on a much wider scale across the south of England.
Food Dudes chief executive, Fergus Lowe, said: "Our big task is to raise our profile, so winning the School Food Plan tender is going to be very helpful. It is an extension of our remit as we are expanding our presence into the south.
"If local authorities see the programme in action they are invariably impressed by it."
Lowe said the new 'Dining Experience' model is a low-cost departure from previous projects, as it will focus on training staff to encourage children to choose fruit and vegetables at lunch, as well as using Food Dudes menus, rewarding healthy choices and offering only fruit as dessert.
Lowe confirmed that Food Dudes has partnered with The Children's Food Trust, and said both organisations will provide regional training sessions for local authority staff.
The School Food Plan 2014, announced by the Department of Education today (6 March), also requires every infant school in England to provide free meals for all pupils starting September 2014.
Anne Bull, chair of the lead association for catering in education (LACA), said: "The roll out of free school meals for infants is a hugely important change for schools, and will go a long way to improving nutrition and academic achievement."
But Lowe added: "Free school meals is not the whole answer. We work in a lot of schools that offer free school meals, and lots of them have incredibly high levels of obesity as children always choose the stodgy, sweet options.
"Food Dudes is about persuading them to choose the fruit and vegetables."
He added that a big part of the job is persuading parents to allow children to take school meals, as many don't believe they are the healthiest option.
Chief executive of the Children's Food Trust Linda Cregan said this collaborative School Food Plan is the first time all the leading names in school catering and nutrition have joined forces to provide the best support to schools.
"This valuable investment from government will allow us and our delivery partners to provide essential support to schools," she said.
"We know headteachers and catering staff face a range of issues with their school meals service, and that lots of schools need support in getting ready for the challenges of introducing universal school meals to infants and getting more junior and secondary children eating them.
"I'm confident we have the right team to help schools, whatever issues they are facing with their school meal service."
Co-authors of the School Food Plan, Henry Dimbleby and John Vincent, said school food has come a long way 'since the dark days of the Turkey Twizzler.'
Vincent said: "Last year, we imagined a new golden age for school food, where well-trained, fulfilled and empowered cooks and caterers serve flavourful, fresh food and it is enjoyed by at least 70 per cent of all pupils.
"That dream is closer now than we could have hoped. It's down to all of us to make it a reality."
The government has allocated £1 billion for the School Food Plan, of which £150 million will go towards helping schools expand kitchen and dining facilities.