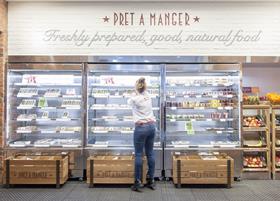 The food-to-go sector is forecast to grow by more than a third in the next five years, with food-to-go specialists like Pret expected to drive this growth.
According to new research by IGD, the retail channel will be worth £23.5 billion by 2022, up from £17.4bn in 2017, as shoppers' preference for eating on the move shows no signs of waning.
The research splits the market into five sections, all of which are expected to expand over the five-year period. These are: food-to-go specialists, such as Greggs, Subway, Pret, Eat and Leon; quick service restaurants (QSRs), such as McDonald's and Burger King; convenience, forecourt and other retailers; and supermarkets and hypermarkets.
Specialist food-to-go retailers are expected to overtake QSRs, increasing their share of the market and growing faster than any other sub-category within the channel. Their value is expected to rise 51 per cent from £5.1 billion to £7.7bn.
Commenting on the study, IGD's senior insight manager Gavin Rothwell said: "Food-to-go specialists are really setting the pace on product innovation and range development, as well as expanding quite rapidly outside London, which is why we're forecasting them to become the biggest part of the food-to-go market by the end of 2022.
"In addition to the well-known high street names, there are several new players emerging in this segment as well. Health and wellness is a particularly big focus for these specialists, with three-quarters (76 per cent) of shoppers satisfied with the choice of healthy options available in store – higher than any other segment of the food-to-go market.
"Although we expect food-to-go specialists to become the biggest part of the market by 2022, QSRs are also set to grow well over the next five years, with 83 per cent of the food-to-go shoppers who visit these stores satisfied with their overall experience"
Rothwell added that he thought the future would see these five market segments becoming "increasingly blurred, as specialists and grocery retailers continue to combine great fresh food-to-go ranges with excellent drinks offers that tick the boxes for shoppers when it comes to quality."