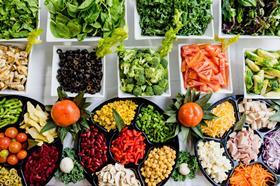 These are confusing times for the foodservice sector as operators weigh up whether to stick or twist – batten down the hatches and survive what is an undeniably turbulent time or make a play for a larger slice of what is still a rapidly-growing market.
Competition among mainstream restaurant chains has become intense, pushing several high-profile names to the wall, and with Brexit uncertainty impacting on consumer spending, the sector needs some respite if there are not to be further casualties.
There's a strange juxtaposition taking place right now between a sector that continues to be in phenomenal growth, and one that is straining under the weight of the battle for the eating-out pound. On the face of it, things couldn't be better: grocery analysts IGD forecast that the UK food-to-go sector is set to grow by a massive 26.4 per cent between now and 2024, up from a total market value of £18.5 billion this year to £23.4bn in five years' time.
"Food to go remains a key growth opportunity for businesses, and one that appears particularly attractive given the structural and growth challenges being faced by UK supermarkets and hypermarkets right now," says Rhian Thomas, head of shopper and food-to-go insight at IGD.
That's all well and good, but with so much in its favour and a strong tailwind behind it, why is the sector struggling so much? Part of the problem may be a sense that the market has reached saturation point in terms of the number of operators. According to a report from Statista in June, since the recession a decade ago the eating-out sector has seen constant strong growth, from 61,192 restaurants and mobile foodservice enterprises operating in the UK in 2009 to 86,630 in 2017. Every single year in that period saw an increase in the number of operators compared to the year before. Notably, that rise was driven by food-led outlets, with the number of drinks-led sites actually falling.
Indeed, walk down any high street in Britain and you see whole rows of restaurants and takeaway places, from cafes to curry houses, Italian chains, burger bars and bistros. That's before you take into account the fact that virtually every pub now has a full menu offer – it doesn't take a genius to work out there are too many people wanting to take a slice of the pie. Jamie's Italian, Carluccio's and Frankie & Benny's are just three of the big names to have closed outlets recently.
What's happening now is a reflection of the fact that a ceiling may have been reached. A recent report by CGA and AlixPartners shows that in March 2019, Britain had 768 fewer restaurants than it did 12 months earlier, marking a fifth successive quarter of decline for the sector. The pace of closures also rose from two a week in March 2018 to 15 a week a year later. There are clearly too many cooks.
Political factors are not helping either, with Brexit uncertainty doing the foodservice sector no favours. A study last month by law firm Irwin Mitchell and the Centre for Economics & Business Research (Cebr) found that the accommodation and food services sector – grouped together in their analysis – was one of the sectors most disrupted by Brexit. Its analysis was based on three key indicators, namely the free movement of labour, tariffs on exports to the EU and investment into the UK from the EU. It also assumes a deal will eventually be agreed.
Foodservice expert Peter Backman suggests the industry is almost in a holding pattern waiting for Brexit, and consumer confidence has been volatile. People are spending less in restaurants, but are making increased use of home-delivery services despite the high price. "There's a sense of trepidation and caution in case the landscape gets worse and it's unlikely this will change before the end of the year," he adds.
Ironically the sector has received a short-term boost from tourism due to the favourable exchange rate for visitors, but the bigger picture will be the longer-term impact on labour availability, according to Irwin Mitchell consultant Stuart Gallyot. "The effects of the Brexit process has mainly positive consequences for the food and drink sector in the short term," he explains. "In addition to the benefits of tourism, there has also been a recent influx of investment from both the US and Hong Kong-based funds into freehold-based leisure businesses." However, he warned that skills shortages would become a problem in the medium term – many operators say they already are – and the number of EU nationals applying for hospitality roles in the UK has declined substantially since 2016. Back-of-house jobs such as chefs, kitchen and cleaning staff are likely to prove particularly difficult to recruit for.
It's not all bad news, however, and those headline sector growth figures show there's still real potential for success for innovative operators, particularly once Brexit is finally concluded. IGD points to further opportunity in convenience and forecourt food-to-go, with real potential to invest. "The good news here is that there's lots of growth to go for, and in many locations there remains opportunity to do more to meet these evolving shopper needs," says Thomas. Such needs include more healthy eating, and it's no surprise when you see how much effort the likes of Pret A Manger are putting into adding more fruit and vegetables onto their menus.
Brexit might be a temporary inconvenience, but the health trend is here to stay. Last year, a further IGD survey indicated a third of consumers would eat out more often if healthy options were more readily available, and outlets are starting to respond with revamped menus and healthier options than ever before. It's a trend that's only likely to continue, and for suppliers who don't have the headache of managing a bricks-and-mortar portfolio, that means this sector will remain highly desirable in the years ahead.