Theresa May urges food industry to go further and work faster to prevent worker exploitation within global supply chains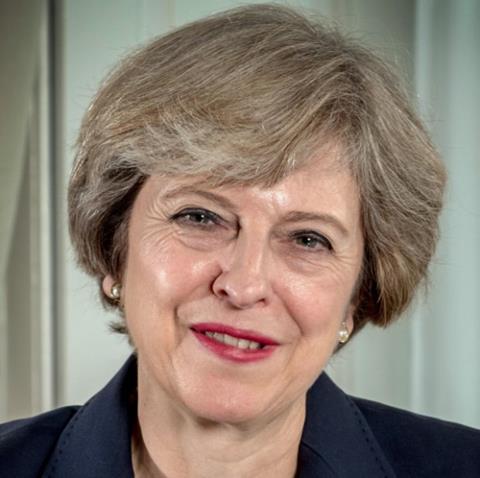 Former Prime Minister and architect of much of today's modern slavery legislation, The Rt Hon Theresa May MP has called on the wider food industry to go further and work faster to address modern slavery across global supply chains.
Speaking yesterday (6 September) at the annual Modern Slavery Intelligence Network (MSIN) conference hosted by Tesco in Welwyn Garden City, May stressed the power of all food businesses to interrupt and stifle people-trafficking and worker exploitation within international supply chains by improving due diligence and driving increasing transparency.
"Since coming together three years ago to establish an intelligence sharing network, the MSIN has shown how businesses can take a lead in the fight against slavery and exploitation," she said. "Over half of the intelligence shared has led to direct investigative action and enabled several potential cases of modern slavery to be identified.
"I hope your work – and the real, tangible, difference you have made – will encourage others to join you in ridding our supply chains of modern slavery. And as I prepare to launch a global commission next month, which will bring together senior decision-makers from politics, civil society, business and academia, I hope you will join with us in our work, galvanising international momentum to end forced labour, modern slavery and human trafficking by 2030."
Also addresing the MSIN conference, which brought together some 200 food businesses and retailers to discuss the power of industry to disrupt worker exploitation, was Caroline Haughey OBE, KC, and successful prosecutor of Operation Fort – the largest labour exploitation and trafficking case in Europe.
She highlighted to the audience the importance of due diligence to understand the nuances of their supply chains and the risks of not acting to drive transparency.
Failure to ensure good practice leaves business and those with fiduciary responsibilities for those businesses exposed to risks of allegations of money laundering, bribery or corruption, she said.
Both speakers praised the work of MSIN to date and the power of information-sharing, but challenged industry to move faster to drive transparency across their own supply chains and, in so doing, root out and disrupt modern slavery.
While the challenge of modern slavery has been present in global supply chains for decades, it has grown in recent years, according to the MSIN. Brexit and the war in Ukraine have led to a substantial reduction of agricultural and food industry workers from Eastern Europe coming to the UK, meaning that workers have been sought from further afield and from countries where due diligence is even more important. Workers can be brought to the UK under false promises and subjected to exploitation on arrival, very often by organised criminal gangs.
Issues of modern slavery are widespread globally, and growing, with 50 million people worldwide estimated to be in modern slavery, the MSIN said. The UK government estimates that around 10,000 people in the UK are in modern slavery; experts believe this number is far higher, closer to 100,000.
Commenting on yesterday's conference, Tesco group quality, technical and sustainability director and MSIN board director Claire Lorains, said: "We're delighted to host today's annual MSIN conference at Tesco, bringing together stakeholders from across the industry. The unique intelligence sharing through MSIN is crucial to preventing modern slavery in our supply chains, and we would encourage more of the food sector to support MSIN and become a member of this initiative."
MSIN was set up by some of the UK food and agriculture sector's largest companies in 2021 in response to the findings of Operation Fort to drive sharing of information across the food industry to disrupt modern slavery activities. It has been strongly supported by the office of the former Independent Anti-Slavery Commissioner, GLAA and the Information Commissioners Office.
In March 2022, the MSIN data-sharing platform was launched, supported by modern slavery data organisation Stop The Traffik, and members began recording live data.
Intelligence sharing amongst members has been growing pace, with submissions to the database doubling in the months of June and July this year versus the previous three months. Intelligence gathered and circulated is also starting to achieve results, with perpetrators being identified and their activities disrupted.
Paul Willgoss, chair of MSIN commented: "Since we launched MSIN in 2021, we've reduced labour exploitation and improved the lives of a small number of people, but we know we can and need to do more. We are keen to see new members join us, as the more intelligence we can gather and share, the more effective we will be as an industry in disrupting the gangs of criminals who are exploiting workers across the fresh food industry"
Coming together in 2020, 14 member companies (Sainsbury's, Tesco, The Co-op, Waitrose, Morrisons, M&S, 2 Sisters Food Group, Bakkavor, Fresca Group, G's Fresh, Greencore, NWF Limited, Pilgrim Foods Ltd, Samworth Brothers) have been working together to develop an innovative and proactive intelligence-sharing mechanism to enhance their effectiveness in preventing and disrupting modern slavery and labour exploitation within the UK.
Working with Stop the Traffik, which is collating intelligence provided by these companies, the network is providing a safe environment for sharing information which, over time, is building a compelling picture of areas on which to act.