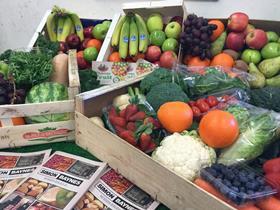 One of the oldest fruit and veg wholesalers in Yorkshire is tapping into the convenience trend with the launch of its new pre-made fruit and veg boxes.
Millies York, a family-run greengrocer and wholesale business that is marking its centenary this year, said the boxes are designed to help consumers choose scratch cooking over processed foods.
The new range follows the popularity of a similar initiative by the company, which delivers fruit boxes to local offices and workplaces.
Consumer fruit and veg boxes include ingredients to make meals such as Thai green curry, stir fry, seasonal salads and juices.
Owner Simon Baynes said: "I am passionate about local produce and am thrilled how the family business has grown. We cater for both the public and businesses, who want fresh locally grown produce and we've built our business on this model. It is our centenary year this year and business is still has strong as ever."
Millies York was established in 1918 after Baynes' great-grandfather started trading on York's Parliament Street market. Millies Greengrocers opened on Bishopthorpe Road followed by the Simon Baynes Wholesale business, caterering to foodservice businesses and chefs.