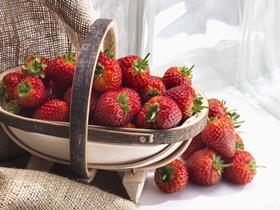 AVA Berries has teamed up with McQueens Dairies to deliver thousands of punnets of premium Scottish strawberries to households this week.
As the Scottish strawberry season starts to peak and what would have been Wimbledon fortnight begins, the two groups came togetherto deliver surprise punnets of strawberries to McQueens Dairies customers.
Some 2,500 customers across the central belt and Fife will be chosen at random to receive the surprise delivery with their usual order.
Jill Witheyman, marketing manager at AVA Berries, commented: "Strawberries and cream and the summer tennis season go hand in hand, and although the Wimbledon tournament sadly isn't going ahead this year, we still wanted to do something to celebrate it and bring a smile to people's faces.
"That's why we decided to team up with McQueens Dairies to give more than 2,500 of their customers a surprise punnet of strawberries with their milk delivery this week.
"AVA Berries are grown by an exclusive group of growers based across the north east of Scotland, the heart of the traditional berry-growing country, and have been specially developed for improved flavour, juiciness, appearance, and shelf life."
Calum McQueen, commercial director at McQueens Dairies, added: "We're really excited to be working with AVA Berries this summer to spread a bit of cheer during these difficult times. Who doesn't love Scottish strawberries, and a free, surprise punnet – even better!"