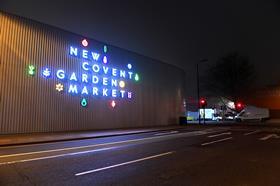 Demand for fresh produce at New Covent Garden Market has collapsed below levels seen during the 2008 global financial crisis amid the unfolding coronavirus crisis.
That is according to NCGM trader Vernon Mascarenhas who said suppliers of large restaurant chains, pub groups and hotels have been hardest hit, with sales down 50-60 per cent.
Smaller independent restaurants, especially those in residential areas, have been less affected, Mascarenhas said, since customers know and trust them to be more careful about hygiene and the produce they use. Suppliers of these restaurants have seen their sales slide by around 20 per cent.
Another impact of the Covid-19 outbreak has been that some large businesses have switched their catering supply arrangements to allow them to become more adaptable.
So-called 'day one for day three' suppliers, whose customers order produce on a Monday and receive it on a Wednesday, are losing business to 'day one for day two' wholesalers.
For now, there hasn't been a major impact on fruit and vegetable imports to the UK since lorries are still being allowed to enter and leave those European countries hardest hit by the outbreak, such as Italy, and so far there haven't been restrictions on goods entering Britain.
Drivers transporting produce in some European countries now need special licenses, however.
Any decrease in supply has been balanced by a fall in demand as consumers eat out less and buy groceries at retailers less often, so prices of most fresh produce have remained stable.
"I don't think we'll see empty fresh produce aisles at the supermarkets like we did a couple of years ago when Spain had really bad weather," said Mascarenhas. "Supply's still there."
One area of fresh produce retail that is experiencing a big spike in demand is home delivery since some consumers are becoming increasingly reluctant to leave their homes to reduce the risk of infection.
As well as the major retailers and Ocado, smaller online players like Farmdrop have seen orders shoot up.