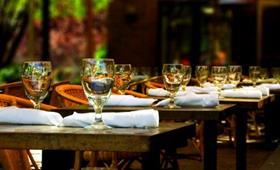 Foodservice suppliers and operators need to become as flexible and 'deregulated' as the modern-day consumer eating out, a new report has said.
A "deregulated" lifestyle is the biggest factor shaping the future of foodservice, the study found, as consumers increasingly have no restrictions as to time, place and format in their eating out habits.
The report, entitled 'Eating Out – Today and Tomorrow' and commissioned by Pesto brand Sacla, was conducted by independent research company Trajectory using feedback from a representative sample of 2,034 adults.
Results ranged from frequency of eating out, preference in cuisine, the role of technology in eating out, destinations, and reason for eating out, set alongside cross-generational, geographical and socio-economic comparisons.
Four trends were particularly evident in shaping the current and future foodservice sector: time pressures and flexibility are unpredictable as consumers have irregular working hours and are busier; a consumer's sense of place in where they eat out is much more fluid; individualism is a key part of foodie culture as people use food as a form of self-expression; the fast-paced development of technology leads to the prominence of eating out apps and services.
Over half of those asked (52 per cent) described their working hours as irregular, changing or unpredictable, while more than 30 per cent of all respondents report regularly skipping breakfast.
In addition, 34 per cent of Londoners asked said GPS navigation is an important feature in an eating out mobile phone app, while 41 per cent want to see visitor reviews and 22 per cent would like automated payments.
"Mobile devices enable you to free up and do things differently. The future is mobile through IT and smartphones, but it is also physically mobile," said report author and MD of Trajectory, Paul Flatters. "By being mobile as an operator, you can cut out the technology and be where the customer is.
"If the consumer is deregulated that's what you need to be. Empower local managers to make decisions and get in touch with local communities," he added.
"The four fundamental elements of deregulation of life – time, place, individualism and mobile devices – demand that foodservice operators consider how they could or should offer the flexibility and choice to match today's deregulated lifestyles."
Frequency of eating out and a desire to try international cuisine were also among the key findings. Around a third of those asked said they eat out at least once a week, rising to 44 per cent for Londoners, 45 per cent for the self-employed and 41 per cent among 18 to 34-year-olds.
Three in five over 65s described themselves as 'totally adventurous' with new cuisines, while 94 per cent of respondents said they have an international cuisine repertoire of five.
Growth in casual dining
Although Flatters stressed that, in general, the foodservice sector as a whole is set for growth, as consumers save on weekly-shops but are more likely to treat themselves to a meal out, he noted some trends in sub-categories.
He said there is a greater "casualisation" of the eating out sector, which "does not lend itself to fine dining'. "Fine dining will remain a special occasion, and we are also seeing an increase in people happy to trade up, but there is a lot of growth in restaurants with more informal environments," he said, adding that this doesn't necessarily mean a lower budget.
Looking at the population demographic, Flatters said that in the mid-term, the baby boomer generation has "more cash", but in the longer-term there will be a point where there are equal numbers of Baby Boomers and Generation Y (those born just before the millennium). "There are key generational differences. What does each generation want?" he asked.
Generation Y are most likely to be frustrated by a restaurant's perceived lack of flexibility and waiting, while Baby Boomers are more likely to be upset by inattentive service.